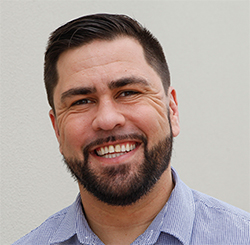 As I sit here writing this week's column, I find myself going back and forth as to who is going to come out on top between the Panthers and Warriors this Saturday.
When the match was announced on Sunday night, I instantly thought the Warriors would win. I don't know whether it's the fact that I'm getting a bit sentimental and emotional around this time of year, but as the game inches closer and closer, I find myself riding the Penny Panthers' train.
The second half Penrith produced against the Storm last Friday in Melbourne is probably the biggest reason I'm going with my former club this weekend.
So much has happened these past couple of months and the Panthers probably have some valid excuses, but when you put on a second half performance like that in Melbourne, you come off the field thinking you can beat anyone.
Yes, the Storm were missing a few stars but the fact is you still have to go down to AAMI Park and win. I never won there in 12 years of playing in the NRL. Not once!
It's certainly a feather in Penrith's cap and they now control their own destiny beginning this weekend.
I'm very much looking forward to the battle between James Maloney and Blake Green. The pair play very similar but Maloney is a proven winner and gets it done on the big stage continuously.
Also look for Nathan Cleary to stamp his authority on this game. He's looking a bit tired as the season draws to an end but he needs to have a massive game this week.
All eyes will also be on Cleary's goalkicking, he missed five from out wide last week. As a former goalkicker myself, I was actually concerned with the way he was striking the ball and the way he had the ball placed. I thought he had the ball placed a little too high and his motion seemed to be chopping at the ball instead of going through the ball like he normally does. Sometimes you have those days as goalkickers but Cleary will be fine, he's a big game player.
If Penrith fans think this Saturday night's Final is going to be a walk in the park… think again! This Warriors side is completely different to the one we've seen in seasons' past. They know how to win away from home these days and, thanks to the influence of Blake Green, they know how to prepare and get themselves organised for game day.
By no means will it be Penrith and daylight. These sides are very similar in the way they play and I predict it's going to be a very tight contest.
Score prediction: Panthers 28 Warriors 26.