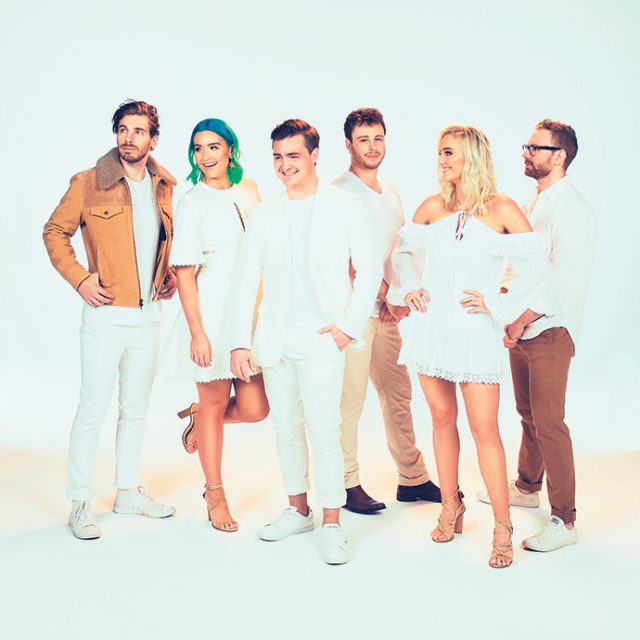 It was the song that filtered through your TV, on your drive home, and even at the dentist while getting your yearly check-up.
And now four years after Melbourne band Sheppard released their infectious multi-platinum hit 'Geronimo', the band's music is once again getting stuck in the heads of people all over the world.
Continuing to master the art of a catchy indie pop tune in their new album, 'Watching The Sky', lead vocalist George Sheppard said the band gave themselves the freedom to try new things in order to evolve from their debut album in 2014.
"After the first album, most bands only get a year after that to try and release the second album, but the second album never turns out to be as good, it's called the second album blues," he said.
"But we really wanted to take our time with it and make sure that every song we were putting on it was up to our fans' expectations.
"I feel like it's an evolution of 'Bombs Away', for me personally I think we delivered an album that our fans really enjoy, we've got some new sounds on there and we're really proud of it."
And while working with your siblings can either go one of two ways, George said being in a band with his sisters, Amy and Emma, was something they didn't take for granted.
"I think it's different when you're working on something like this," he said.
"We feel like we're really lucky to be doing this, it's not an opportunity that everybody gets and the fact that we are doing it with our family is cool."
Since taking off, the six-person band has also caught the eye of high profile artists, touring with and opening for Megan Trainor, Justin Bieber, Keith Urban and Little Mix.
But it was UK pop legend Robbie Williams, that George said reinforced a valuable lesson for the band that they will always remember.
"The guy was so humble and down to earth, like for the level of superstardom that he is at," George reflected.
"He came out to say hello to everybody and my grandma was there, and he gave her a big hug and kiss on the cheek.
"I think that was one of most important things that we have learned in our time as a touring band, it's so important to stay grounded, humble and real because as soon as you lose that people notice and no one wants to work with you."
Sheppard will be performing at Rooty Hill RSL on Saturday, September 8 at 8pm. To book, call 9625 5500.
Lauren Suttie is the Weekender's General & Community News journalist.