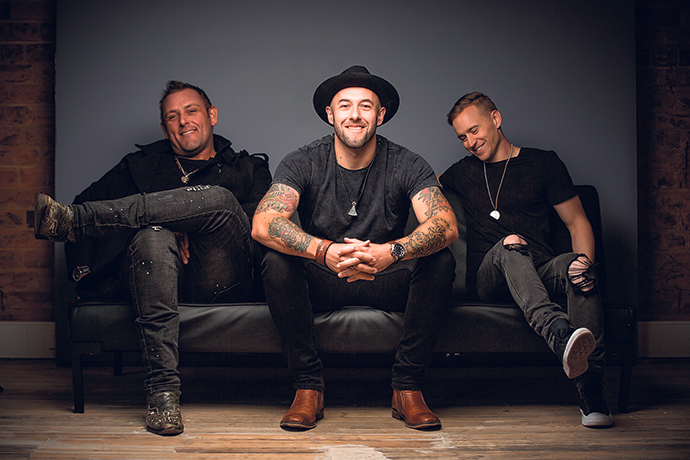 There were no shock angles, no tales of drama or sickness and no heartbreaking back story when Australian country rock trio The Wolfe Brothers first appeared on 'Australia's Got Talent' in 2012.
It was just two brothers and their good mate, who connected with audiences through their original songs and their love for music.
And while Tom Wolfe admitted he does cringe a little when looking back on the experience, he said that their time on the show ultimately set the trio up for what was to come.
"I look back on it and I'm very proud of it, but I do cringe a little bit," he laughed.
"I think a lot of people saw us and went 'oh, hang on, there's no drama back story, it's just guys who love playing music together' and I think people connected with that.
"Doing our songs on national TV, we were very grateful, and I think it set us up to be able to tour."
Six years after finishing second, the Tasmanian trio have just released their fourth album, 'Country Heart'.
Debuting a completely new sound, Tom said that the group had gone into the writing process knowing they wanted a change.
"We thought we can do the country rock sound forever, but we were all really ready to take it further and take it new places," he said.
"There has been a lot of growth musically, but it's been in a really positive way.
"The songs are definitely more us and more authentic than they have ever been and people just seem to be connecting with it on another level, so that is really encouraging for us."
After losing their father in late 2016, the brothers have since taken on his legacy, running his berry farm in between touring.
And while the farming industry and the music industry are miles apart from each other, Tom said that farming had given him the best of both worlds.
"I've got fences to fix and I've got farm work to do, but I enjoy that and enjoy the lifestyle change of it," he said.
"I love getting out and doing what some people might say is 'real work'. Some good hard labour, and for me mentally it's a really good escape."
The Wolfe Brothers will be performing at Penrith RSL on Saturday, July 7 at 8pm. Tickets are $37.50. To book, call 4728 5200 or visit www.penrithrsl.com.au.
Lauren Suttie is the Weekender's General & Community News journalist.