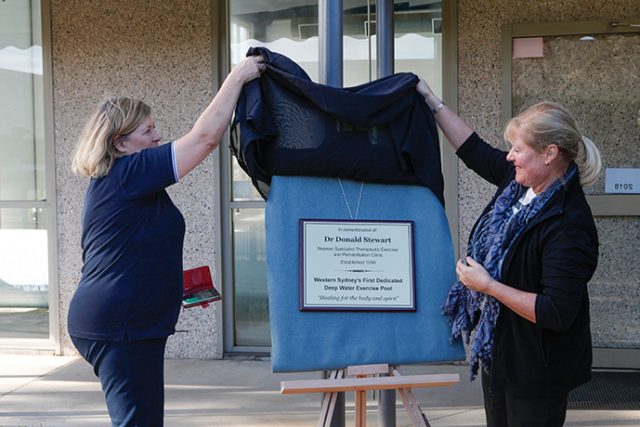 He was the local doctor who turned a vision into reality, helping patients on their recovery journey, and now his memory will continue to live on.
The late Dr Don Stewart was recently honoured by Everybody Physiotherapy Penrith with a commemorative plaque that was erected outside the former Nepean Specialist Theraputic and Exercise Rehabilitation Clinic, that Don pioneered in the 1990s.
His wife, Dr Kathryn Stewart, said the continuance of Don's vision and memory meant a lot to her family.
"It is a source of great pride to me and our children to see the ongoing success of the clinic and the continuation of his vision, which is still as fresh and clear as it was when we started 20 years ago," she said.
"It means a lot to all of us that Everybody Physiotherapy is keeping this vision alive."
Arriving in Australia from New Zealand in 1990, Don worked with the head of the ICU at Nepean Hospital, Prof Tony McLean, to set up a cardiac echocardiography service for ICU patients, which is now world renowned.
An elite athlete, Don's passion was also therapeutic effects of exercise in respiratory and cardiac disease, a passion that lead him to open the revolutionary Clinic and Deep-Water Hydrotherapy Pool within the clinic, that is still used today by Everybody Physiotherapy.
"Although this is now well established, it was then still quite revolutionary," Kathryn said.
"I can remember the pool builder shaking his head at the notion of a pool without a shallow end, but Don was adamant.
"He managed to inspire everyone who worked there with his enthusiasm for the project and it was a success from the moment the doors opened."
With this week marking three years since Don's passing, Practice Manager of Everybody Physiotherapy, Francine Austin said they were honoured to be able to see Don's dream of an exercise rehabilitation centre rebirthed.
"Not everybody gets to leave a dream that will continue after them," Kathryn added.
"Don has been honoured by a plaque in the Nepean ICU and a research scholarship in ICU echocardiography, and now this plaque naming the deep-water pool after him, bringing together the wide-ranging legacies of this extraordinary man and his commitment to the health and well-being of the people of western Sydney."
Lauren Suttie is the Weekender's General & Community News journalist.