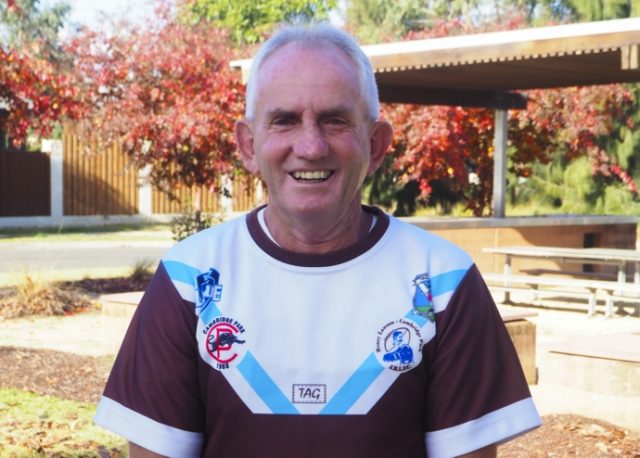 Like the blades of grass on the fields, Wayne Robert Brennan from Cranebrook has been a part of the Cambridge Park Cranebrook Junior Rugby League Football Club since it began 50 years ago.
Starting as a player in Under 11s, Mr Brennan enjoyed over 300 games for the club and took home the honour of being named Clubman of the Year in 1975 and Senior Clubman of the Year in 1980.
"I've just always played it," he said.
"I lived next door to where the football oval was in Cambridge Park, and the rest is history. I've been there as part of the club since day one, it's 50 years this year."
He was was made an Honorary Life Member in 1991 for his dedication to the team he loved from childhood into adulthood, also serving as a coach for 25 years.
But rugby league isn't the only football love he has, having also dedicated countless hours of his life to touch football.
Through the Penrith Touch Association, Mr Brennan played over 700 games and has been a member since 1976.
"I played for Penrith in lower grade years ago, it's been a good time," he said.
"I only play touch football now, and I'm just coaching the older fellas."
Over the years Mr Brennan has helped hundreds of local sports stars enjoy the love of the game and is regularly recognised by people he once helped as kids now grown up with families of their own.
He says he was "lucky" to have escaped his football career with no serious injuries and credits this to a long career playing the games he loves.
But in hindsight this surprises even him.
When he was playing football "back in the day" while weighing less than 55kg, the worst injury he saw was the occasional black eye or small facial fracture.
For his service to both rugby league and to touch football, Mr Brennan has been awarded the Medal of the Order of Australia.
"I feel pretty excited," he laughed.
"I didn't know it was going to happen."
Meanwhile, Catherine Anne Kerr was awarded a Medal of the Order of Australia for her service to the sport of softball.
The Emu Plains resident played representative softball with enthusiasm for many years including as part of the Australian Women's Team from 1985 to 1989, the Open Nationals Women's Softball Team in 1985 and 1986 and was a member of the Open NSW State Women's Softball Team for a decade from 1981 to 1991.
During the 2000 Sydney Olympic Games and the 2004 Athens Olympic Games Ms Kerr worked as the Softball Field of Play Manager.
The love of softball moved out of the diamond and into a long term career for Ms Kerr, whose sporting passion provided a wealth of knowledge as she joined Softball New South Wales as a staff member in 1989, and has been knocking it out of the park as the General Manager since 2002.
Emily Newton is the Weekender's police and political reporter. Emily is also the Weekender's Senior Journalist.