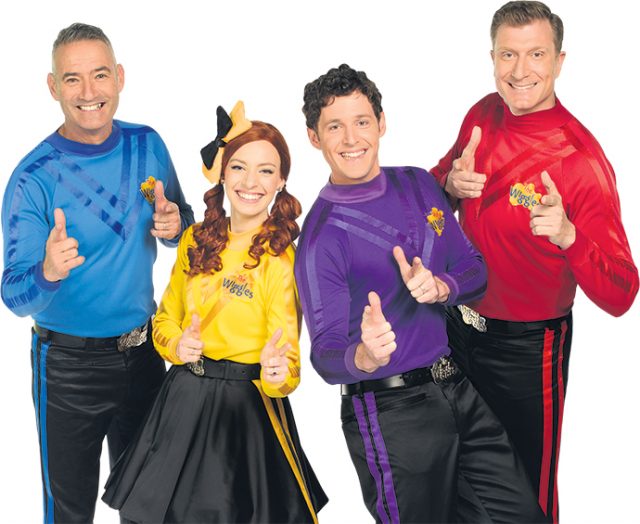 Toot toot, chugga chugga, the Big Red Car is once again making its way to Penrith ahead of what will be a jam-packed weekend for The Wiggles, with the group to perform seven back-to-back shows next weekend.
The Wiggle in the red skivvy, Simon Pryce, said that despite the gruelling schedule, it was the energy from the children that made it all worthwhile.
"The great thing about children as an audience is that their responses are immediate and if they don't engage with you, then you know straight away because they walk off," he laughed.
"They don't have any of that theatre etiquette, they're literally just responding to what they are given and what they are seeing at the particular time, so it's really refreshing to work with them."
Marrying his long time sweetheart and co-worker Lauren Hannaford last year, the newlyweds took advantage of their recent break to do more 'normal' things, like picking up their 10-month-old nephew from daycare.
"It is a bit strange picking him up from daycare I must say, because they are all varied ages, so I have to go in disguise and wear a big hat and sunglasses," he joked.
"Our nephew has been listening to The Wiggles but he doesn't quite get it yet, so it'll be interesting when he finally figures out what's going on."
With tickets for the seven shows in Penrith selling faster than you can say hot potato, Simon said that Penrith is always a favourite stop for the group when on their travels.
"I went to Western Sydney University, so I was out there for a few years," he said.
"I think Penrith, back then and even more now, is such a community focused area and we love coming every year."
Joining them on their 'Wiggle, Wiggle, Wiggle!' tour will be favourites, Dorothy the Dinosaur, Captain Feathersword and Wags the Dog, as they bring their most diverse show to date to smaller venues.
"It's really exciting for us because that's what The Wiggles are all about, it's just about trying to introduce as many music styles and dances for children to learn as early as possible," he said.
Catch The Wiggles live at the Evan Theatre on Saturday, March 17 and Sunday, March 18. Tickets start at $28.90, with children under 12-months free. For more information or to purchase tickets, visit www.penrith.panthers.com.au or call 1300 PANTHERS.
Lauren Suttie is the Weekender's General & Community News journalist.