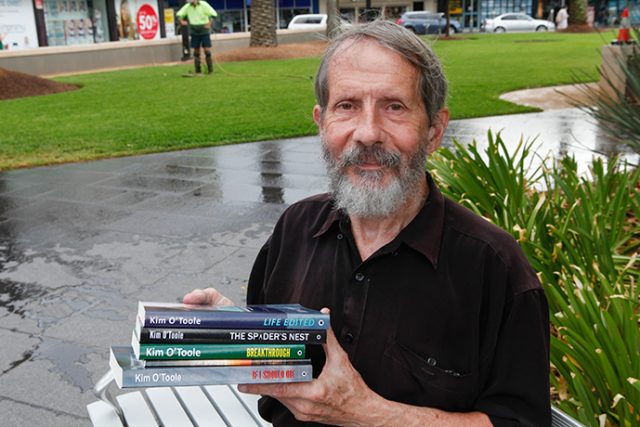 It was the discovery of the all-white cover of Michael Crichton's 'Jurassic Park' that sparked inspiration in local author, Kim O'Toole.
Since then, Mr O'Toole has written four novels and a collection of short stories.
"I would go into a book store and browse and wouldn't find anything much that I particularly liked," he said.
"Then I came across a book with a white cover and a rather unusual skeleton on the front and that was 'Jurassic Park', and that inspired me."
With a PHD in cell biology and degrees in chemistry and bio chemistry, Mr O'Toole decided to take a leaf out of Crichton's book and use his own scientific knowledge as a backdrop to the novels.
"I've gone out of my way to make it non-intrusive so if you're not into science well that's fine, but if you're fascinated by it then there is something in there for you and if you hate it and don't believe it there's still something for you," he said.
While his books 'Breakthrough' and techno-thriller 'The Spider's Web' have already had some success, Mr O'Toole said that for him, writing was just an enjoyable hobby.
"I thought I would just get them out there and they are being sold, but I don't treat this as a commitment," he said.
"I just love writing and I love creating and putting ideas together."
While Mr O'Toole admits that he is no longer a young man who has the liberty of spending all his time writing, he does hope to continue ticking things off his bucket list, one at a time.
"When I was 11, I wrote a piano concerto but it got lost with various house moves when I lived overseas for a while, but part of my bucket list is to write a full 100 to 200 page piano concerto, whether I'll do that of course is another thing," he said.
Mr O'Toole's books are available to purchase through Amazon.
Lauren Suttie is the Weekender's General & Community News journalist.