While for many, February 14 is a day for celebrating love, for thousands of Australian families, the day holds a much more significant meaning.
For Cambridge Park local Jodie Heterick, the day has become an opportunity to give back to HeartKids, the charity that has supported her fourth child, Reeve, on her journey with congenital heart disease.
"Valentine's Day has a new meaning for me, it's not just about flowers and chocolate, it's about my beautiful sweetheart and raising money for her and all the other 'heart kids' that need this support," Ms Heterick said.
While it's impossible to tell by looking at her, 15-month-old Reeve has five holes in her heart – two large and three small.
At just four-weeks-old, she underwent her first surgery where a pulmonary artery band was inserted to help give her the best chance of growing to become strong enough for doctors to go in and close the holes.
While the first surgery was a success, it's now a waiting game for the Hetericks, who treat each day with Reeve as a blessing.
"You know underneath her shirt those scars tell a different story and that's the hard part that people don't realise, inside her heart, it is still very broken," Ms Heterick said.
"I just look at her and think she's doing amazing and every day I'm just so appreciative that she's still doing so well."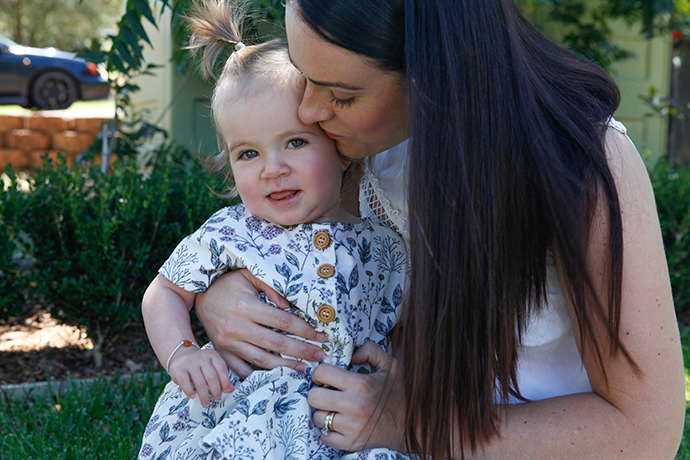 Four lives are lost each week to congenital disease, making it the number one killer of infants under the age of one.
It's for this reason that Ms Heterick believes it's important that more funding be raised for vital research into the condition.
"Without them we wouldn't be getting the funds and we wouldn't be able to get more research into congenital heart disease," she said.
To help give back, Ms Heterick and her family will be hosting a fundraiser bake sale on Wednesday, February 14 at Nepean Boltmaster, where all proceeds will go to HeartKids' Sweetheart Day.
"We also have a raffle and some great prizes from local businesses and people donating, it was super lovely and I just feel really appreciative," Ms Heterick said.
To make a donation, visit sweetheartday2018.everydayhero.com/au/hearts-for-reeve.
Lauren Suttie is the Weekender's General & Community News journalist.