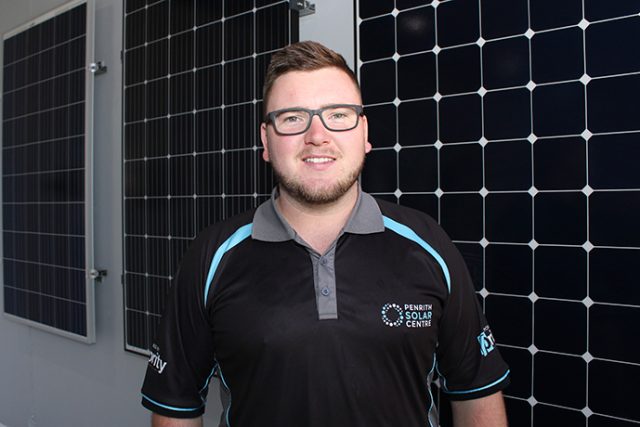 With power bills continuing to climb, Penrith is leading the way for solar installations as locals look to keep costs down.
Managing Director of Penrith Solar Centre, Jake Warner, said the demand for solar energy is high and unlikely to drop as people look to invest in energy that is good for the environment as well as their bank account.
After opening on July 1 this year, they're kept busy installing up to 10 solar systems a week in the Penrith region.
"We get a really big spike when 'A Current Affair' has a big episode about solar on," he said.
"About 80 per cent of people who come in here still have no idea about what solar can do for them, they just know that they should be looking into it.
"The thing that's driving this solar revolution is the price of power. People want to prepare for the future."
Mr Warner said people saw a power price increase of 16 to 20 per cent last year, and he expects to see about a six per cent rise each year going forward.
While not currently financially viable for every household, the development of battery power is where the future is headed.
"We can generate through the solar panels and run our house during that day and instead of selling our excess energy to the grid, we can actually harness it for ourselves and keep it in a battery," he explained.
"Then at night time, once our system stops generating, our battery will start supplying power for us.
"We can back-up your house, so that you seemingly would not experience a blackout.
"In summer this year, we will experience blackouts. NSW will be really bad for it."
Penrith Solar Centre aims to reduce bills by 50 per cent through solar panels, and with battery storage they can reduce it 80 to 90 per cent, with some clients achieving a perfect bill.
Data from the Australian PV Institute shows Penrith is a part of a major solar energy boom, as western Sydney now makes up a quarter of all small scale solar installations in NSW.
In February, Penrith Solar Centre will hold a mass education event to show locals the benefits of solar when it comes to electricity costs.
Emily Newton is the Weekender's police and political reporter. Emily is also the Weekender's Senior Journalist.