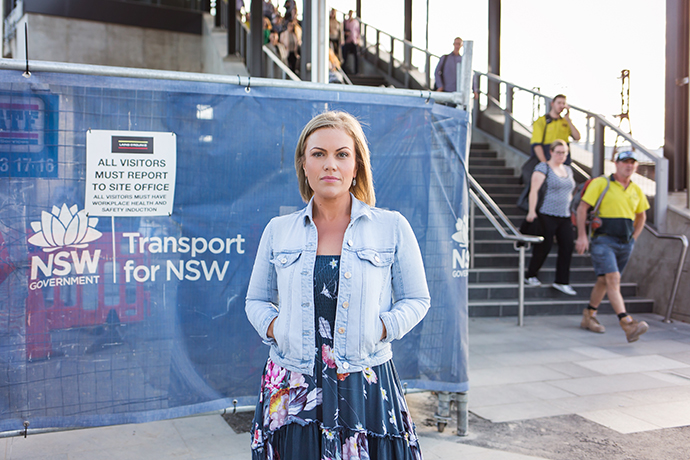 Currently Megan Dunn, a Penrith commuter, can catch a train to Redfern where she works in under an hour.
But when Transport NSW's new commuter timetable comes into effect on November 26, she's looking at a much longer commute as express trains on the Blue Mountains Line will no longer stop at Redfern.
"They say it's going to add five minutes, but it won't," she said.
"I get to Redfern and then I have a 20 minute walk to work, but if I go to Central it's a 45 minute walk."
Her other options including changing platforms at Central and walking through crowds to get another train back to Redfern, or catching a bus from the City which already have long lines and wait times. She can also catch a much slower suburban service, which are now expected to be even more crowded.
Ms Dunn is "furious" as she expects at least half an hour will be added to her daily commute, completely changing her morning and evening routines.
"It takes so much longer," she said.
"Everybody that gets on and off at Redfern is now going to be getting on and off at Central. It's just going to be over crowded."
As reported in last week's Weekender, the changes to the timetable leave many commuters in Penrith and the Blue Mountains worse off.
While Western Line customers were promised additional services, it seems that the outer west only significantly benefits from additional weekend services.
Transport for NSW claims the decision to remove Redfern has been based on Opal data, as most people travel to Central and will experience faster commute times. But using the
Transport NSW online trip planner, a commuter from Springwood to Central is set to save only two minutes, and it will actually take two minutes longer for Penrith commuters using the Blue Mountains Line for an express service to Central.
Lindsay MP Emma Husar has spent mornings at local train stations and coffee events speaking with the community, and said commuters aren't happy.
"If the commuters are not getting the services they need, you've failed. Western Sydney has been failed again with this new timetable," she said.
She is calling on Member for Penrith, Stuart Ayres to stand up for the local community, and has slammed the NSW Government for getting their priorities wrong as Kingswood Station is still without an elevator.
"We've got commuters in the suburb next door who might have wheelchair accessibility issues, they might have children in prams and they can't actually access the station, but the priority for this Government is to give Penrith Station a window dress," Ms Husar said.
Mr Ayres' office was contacted for comment but did not respond before deadline.
Emily Newton is the Weekender's police and political reporter. Emily is also the Weekender's Senior Journalist.