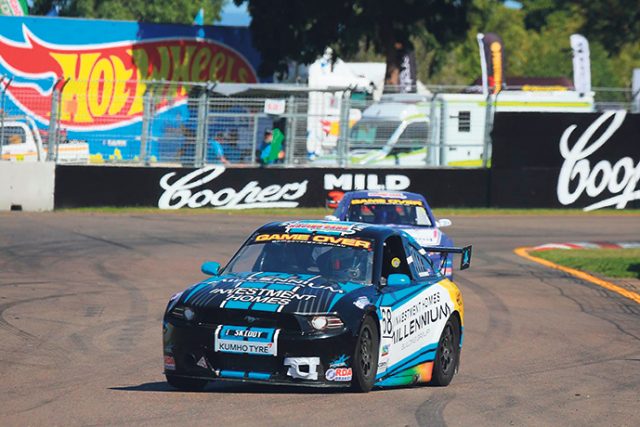 Western Sydney Motorsport (WSM) are on the verge of a double podium finish heading into the final round of the Aussie Racing Cars Championship in Newcastle this weekend.
Llandilo resident Blake Sciberras leads the competition by a single point (291), with fellow WSM driver and Kingswood local Craig Woods five points behind in third (286).
Reigning Aussie Racing Cars champion and fellow western Sydney resident James Duckworth is sandwiched between the two Penrith locals in second place (290).
To avoid being overtaken by nerves, Sciberras said he's been trying not to think too much about the 'race of his life' this week.
"I'm not really that nervous yet, I'm trying not to think about it much to be honest," he told the Weekender.
"I'm just treating it like another race – if I win, I win; if I don't, I don't."
A win in Newcastle this weekend will see the 25-year-old two-time national go-karting champion crowned king of Aussie Racing Cars for the very first time.
"I've only won one race this year but have finished strong in other races, which has put me in pole position heading into the final round," Sciberras said.
"It would be great for the WSM team if my teammate Craig and I can finish one, two."
If Sciberras – who runs his own earth moving business – does manage to take out the title, it will be on a history-making weekend as it will be the first time cars have raced on the brand new Newcastle street track.
Sciberras said he's excited to christen the new course driving his replica Ford Mustang.
"It's going to be fun, no one has ever raced there before, so it's going to be good," he said.
But it won't just be Aussie Racing Cars Sciberras will be focusing on this weekend, with the speed demon currently sitting in third heading into the final round of the Australian V8 Ute Racing Series.
Sciberras is hopeful a strong performance in both competitions will see him finish the weekend – and year – on a high.