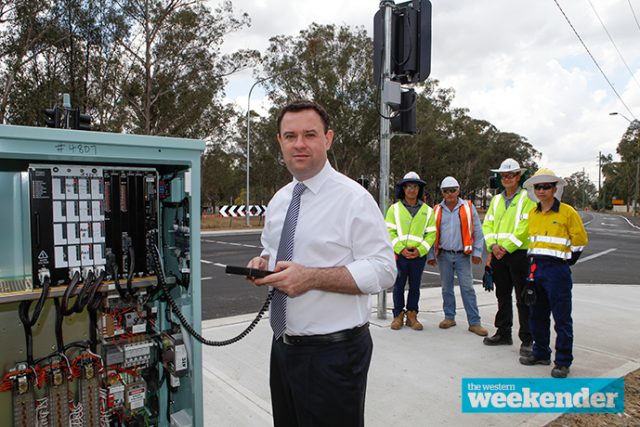 With the turn of a key and the flick of a switch, a key intersection in Cranebrook has become safer for motorists and pedestrians.
At 11am on Tuesday, Member for Penrith Stuart Ayres officially turned on the new traffic lights at the busy intersection of Andromeda Drive and The Northern Road, three months ahead of schedule.
"This is fantastic news for the Cranebrook community who can now enjoy a safer journey through this key intersection," Mr Ayres said.
"The Northern Road is a major north-south connector through Penrith and the intersection with Andromeda Drive provides access to residential areas and schools in Cranebrook.
"Crews started improvement work at this intersection in June to install new traffic lights and widen the southbound lane on The Northern Road heading towards Penrith, to provide motorists with safer turning opportunities into and out of the residential area.
"We wanted to ensure the community can safely access this key intersection and these improvements will reduce the number and severity of crashes."
Mr Ayres said it's vital that safety is put first as the Penrith community grows and we see an increase in traffic.
"This Andromeda intersection is particularly important for the Cranebrook community and we know from both the crash record and the unfortunate loss of life here, that we needed to change this intersection and now we've done that," he said.
In February 2016, the intersection was the scene of a tragic car accident which killed 17-year-old Kieren Birks.
The intersection was identified as a local blackspot prompting Roads and Maritime Services to work with the community to find a way to improve safety.
Mr Ayres said the NSW Government is committed to reducing the number of accidents on our roads.
"We're constantly evaluating the city as it grows, we're also looking at crash patterns and we engage with the police pretty much every week to identify where we've got challenging intersections," he said.
"This one here was a little bit unusual, it had increasing amounts of traffic but it's also on a deceptive bend that particularly inexperienced motorists often misjudged and that put them in front of oncoming traffic."
Emily Newton is the Weekender's police and political reporter. Emily is also the Weekender's Senior Journalist.