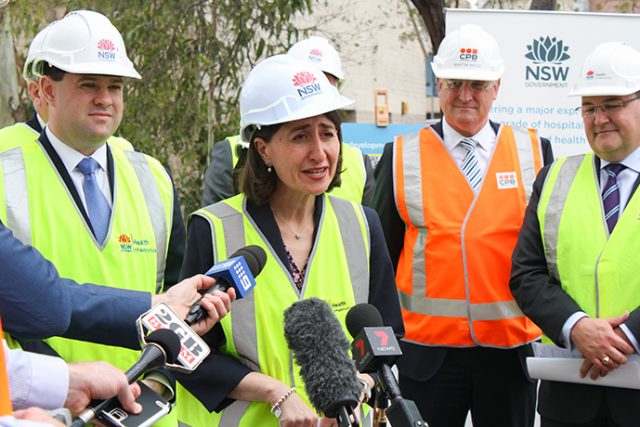 After what seems like a lifetime for the community, demolition works have begun at Nepean Hospital marking the start of a new chapter for Penrith health services.
The first bricks were knocked down earlier today to officially begin Nepean Hospital's $576 million redevelopment.
Premier Gladys Berejiklian was joined at the hospital by Minister for Health Brad Hazzard and Member for Penrith Stuart Ayres.
"This has been a project which we know is very dear to the heart of Penrith and the western Sydney community," Ms Berejiklian said.
"I want to pay full credit to the Minister for Western Sydney and the Member for Penrith Stuart Ayres for convincing the Minister for Health and me that we need set a cracking pace in this hospital rebuild.
"Stage 1 is a $576 million commitment, but we know it's not just about the dollars here in western Sydney, this is about bringing world class services to a world class community.
"Nepean deserves this upgrade, needs this upgrade."
Mr Ayres said he was genuinely excited to see work beginning on Nepean Hospital.
"There is no doubt that the Penrith and the greater western Sydney community is growing, and it's important that health services and hospital services keep up with the pace of that growth," he said.
"This will significantly enhance the capacity at Nepean Hospital."
The demolition of the Pialla building for the hospital's multi-storey car park was prioritised to create space for the new hospital tower, which will be built on the site of the current car park.
"The NSW Government is delivering on its promise to provide first-class health services closer to home for people in the Penrith and Blue Mountains areas," Mr Hazzard said.
"This significant redevelopment will include several major improvements to Nepean Hospital, including a doubling of capacity in medical oncology, almost doubling in birthing suites and at least 12 new operating theatres."
Stage 1 will also include a new clinical services block, a new and expanded emergency department, more than 200 beds in new accommodation, a new Neonatal Intensive Care Unit, new community health services and 18 birthing suites in new accommodation, an increase of 10.
Cancer services will also receive a huge boost with a doubling of chemotherapy chairs from 15 to 30
The helipad will be relocated to the roof of the new clinical services tower during Stage 1 of the redevelopment and construction on the multi-storey car park is scheduled for completion in early 2019.
Emily Newton is the Weekender's police and political reporter. Emily is also the Weekender's Senior Journalist.