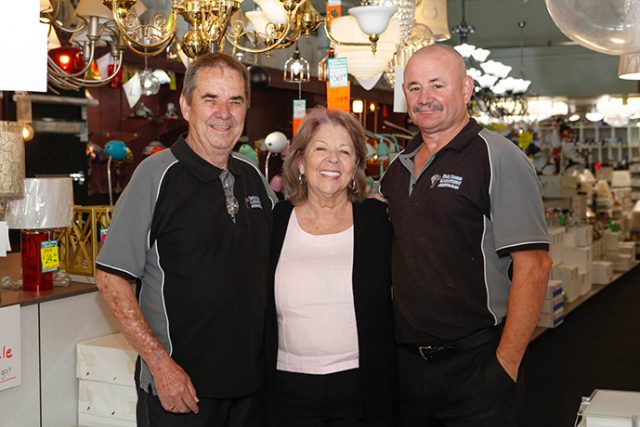 After keeping the lights on for over 40 years, husband and wife business owners Bob and Ruth Moore are flicking the switch off one last time.
First starting Bob Moore Lighting at the bottom end of High Street in March 1977 and moving to the top end in around 1983, Mr Moore and his team have been an institution in the Penrith area.
"Times have changed, it's not as lucrative, it's a lot more competitive today and it's a younger person's game," Mr Moore told the Weekender.
"It's given us good living and a tremendous amount of good people in Penrith. We thought 40 years was enough."
A self-started business, Mr Moore is incredibly proud of the hard work his team has put in through the years, especially that of his wife, Ruth.
"She's been the partner right through from day one," he said.
"When we first started, we did the first 10 years working seven days a week and we did the first 16 years with no holidays.
"I never saw a football match that our son played because we were always working.
"It's a totally different scope to what today is, but we pride ourselves on the fact that we were able to start a business of our own name."
Mr Moore reflected on his time in Penrith as "very enjoyable", and is sad to say farewell to the community he has seen grow and develop over the years.
"We're closing now not because it's in trouble, but simply because we've had enough," he laughed.
"I've got cobwebs on my cobwebs."
Now 71-years-old, Mr Moore said that while it's time to retire and look after the grandkids, he will miss his loyal staff dearly, including General Manager Brendan Jude who has been with him for 33 years.
"I'm very sad to say goodbye to them, but I'm sure they will all do very well in the future," Mr Moore said.
"We'd love for anyone who has dealt with us over the years – which has been many – to come and say hello or goodbye, or grab a bargain."
There's big discounts to be had in store.
"We're definitely selling stuff at well below cost, I can't do anything with them when it's all over," Mr Moore said.
"Come and grab a bargain and let me say thank you for supporting me for all these years."
Emily Newton is the Weekender's police and political reporter. Emily is also the Weekender's Senior Journalist.