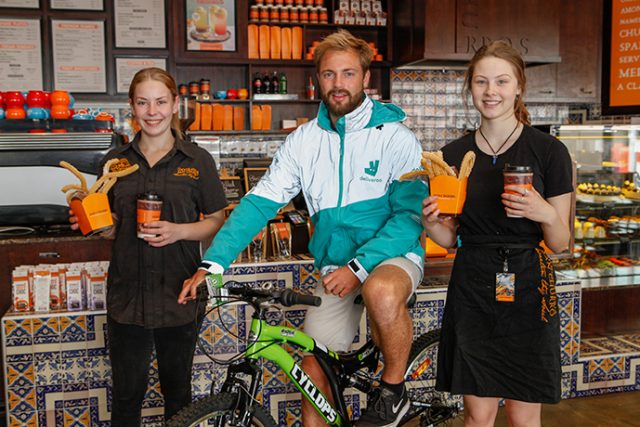 It's about to get even easier to enjoy your favourite foods at home in Penrith, as Deliveroo launches locally next week.
Expect to see bright teal Deliveroo jackets and bags zipping through Penrith as delivery drivers and riders travel to keep stomachs and tastebuds satisfied.
"We are so excited to be launching in Penrith on Wednesday, November 1," a Deliveroo spokeswoman said.
"We always want to bring Deliveroo to the avid foodies around Australia, and Penrith was somewhere we knew we would be received really well.
"There's such a strong food scene in Penrith, and we want to bring all the awesome food to Penrith homes, workplaces and parks – wherever you are!"
Ray Grace, owner of San Churro Penrith, which will be offered through Deliveroo, said he can't wait for the launch next week.
"We're really excited to be able to give the same in-store experience as a delivery service," he told the Weekender.
"I think for us, our core model is celebrating life, so if it's a celebration at home we're now able to offer that experience."
Without the delivery service, Mr Grace said his store would not be able to afford the costs associated with having their own delivery driver, so is grateful to provide their delicious chocolates and churros to homes across Penrith through the Deliveroo service.
"We don't have to do much other than just provide the same consistent service," he said.
"We think it's exciting for the Penrith community to have this come on board.
"Whether that's enjoying a dessert from us, or a dinner from someone else, it's really exciting for locals."
There is already a great range of restaurants ready for Deliveroo's launch on November 1.
"We're so pleased to have some iconic Penrith food destinations on board like BurgerHead, Guzman Y Gomez, San Churro and High St Social," the Deliveroo spokeswoman said.
"Customers can download the app anytime, and will be able to order from 12pm on Wednesday."
From launch, Deliveroo will cover delivery in Penrith, Jamisontown, South Penrith, Kingswood, Cambridge Park, Cranebrook and Jordan Springs.
They will be expanding to other suburbs around the Penrith area soon.
Emily Newton is the Weekender's police and political reporter. Emily is also the Weekender's Senior Journalist.