When locals Emily Leedham and Tom Knight took the next step in their relationship, they had no idea it would see them spend over $30,000 on vet bills.
After the couple moved into a rental property together they decided to buy a dog but, after only a few weeks, their energetic puppy Hunter was not himself.
"We organised his first vet check-up… and that was fine," Ms Leedham said.
"A month later he started getting a little bit slow and lethargic. He just wasn't a puppy anymore. He developed this cough and he had no appetite."
The couple took Hunter to a vet where they began treatment for aspiration pneumonia, which occurs when something is breathed into the lungs instead of being swallowed.
"After spending about $8,000 there, they told us he was 50 per cent better," Ms Leedham said.
"But then I got a call saying they were wrong."
She was offered a "very vague apology" and swiftly looked elsewhere to continue the fight for Hunter's life.
They began seeing a specialist who has continued treatment with x-rays, CT scans and surgery, but after a year of treatment, Hunter's journey is far from over as his immune system still struggles.
To date, the couple have spent $30,200 on trying to save their puppy's life, including taking out a loan to help pay for his surgery – each month expecting to pay almost $1,000.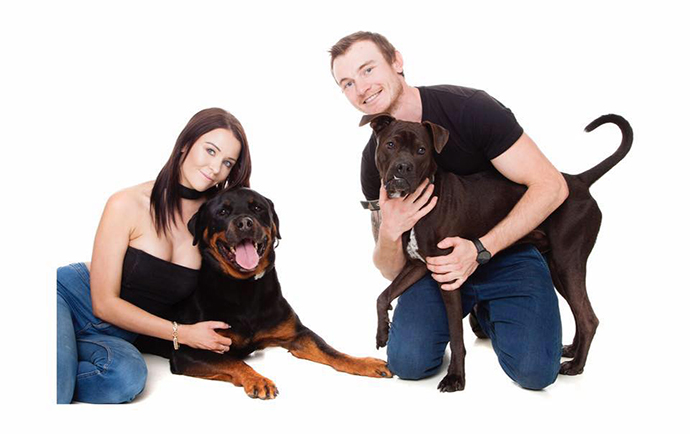 "Every two weeks is $115 in medication, and every month is about $600 for consultation and treatment," Ms Leedham said.
The pair have moved into Ms Leedham's parents' home in Emu Heights as they continue to care for their puppy.
They say their vet is "level-headed" and "honest" and would let the pair know whether Hunter was in pain, but the specialist agrees that he is still worth fighting for.
"If I saw him suffering or moping or crying, I would have to let him go," Ms Leedham said.
"Of course we want a house, we want to be home owners, we want what every person in their 20s wants.
"But we want Hunter as well."
Anyone who has gone through a similar experience with their pet that may be able to help or if you just want to follow Hunter's journey, visit www.gofundme.com/surgeryforhunter.
Emily Newton is the Weekender's police and political reporter. Emily is also the Weekender's Senior Journalist.