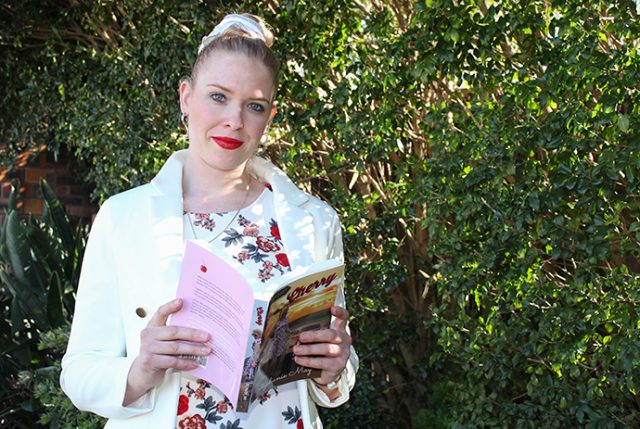 When Penrith's Stephanie May wasn't getting the acting work she was searching for, she took matters into her own hands.
Instead of being in front of the camera, she's placed herself behind the screen, now publishing her debut novel Cherry this month.
"I'd been in the entertainment industry for quite some time, and nothing was really happening so I knew things had to change," Ms May said.
She saw an advert for a course that said it would 'change her life' in six months, and Ms May thought it was worth a shot.
"The premise was if you take off your acting hat, and put on your writing or directing hat, you can write your own material, you can produce it and then perhaps even star in it," she said.
"I sat down and thought about the things that I loved.
"I love the 1950s, I love pin-up, I love the music, Marilyn Monroe, Elvis Presley – that's how it started."
Cherry explores the journey of a woman from far out west that dreams of changing her life, full of beauty pageants, drama and a dash of romance.
It's taken three years from when she started her first novel to get it published but, since then, Ms May has written six additional novels.
"Writing has actually overtaken my acting," she said.
"I've rekindled a love, I used to write a lot when I was younger.
"I've already had that love of literature, and then while writing this, it was such a wonderful journey that I just had more ideas popping into my mind."
Her second novel is already attracting attention from a few publishing houses within Australia, and the course she took really did change her life, just not in the way she expected it.
"I never thought that I would become an author… but now I just want to keep writing books," Ms May said.
"Right now I want to see where this takes me. It's on my terms, with acting it's always someone else's terms."
Her journey hasn't always been positive, however.
"Along the way, I ran across a few sharks. In the industry, there are always going to be a few sharks who are there to take your money and not give anything back," she said.
Cherry is available through Amazon, Kindle Select and Google Play.
Emily Newton is the Weekender's police and political reporter. Emily is also the Weekender's Senior Journalist.