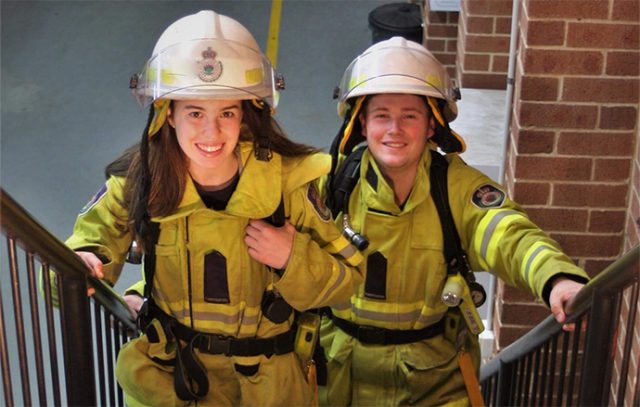 Orchard Hills Rural Fire Brigade (RFB) firefighters Emily Dal Santo and Gage Pitt are stepping up to help raise funds for Motor Neurone Disease.
On Saturday, October 14, the duo will race teams of firefighters to climb all 1504 stairs, or 98 floors, of the Sydney Tower Eye, each carrying an additional 20kg of gear.
Ms Dal Santo said she was looking forward to taking on the enormous task.
"What made me do it was it was for a good cause and because I wanted to challenge myself to do something so gruelling," Ms Dal Santo said.
"This is my first time doing something crazy like this.
"Our fundraising goal is $1,504 because it's the amount of stairs we have to climb, so it's a dollar per step, and I think we will achieve it."
Having attempted nothing like this before, Mr Pitt joked that he had been "suckered" into participating in the challenge by Ms Dal Santo.
"I'm looking forward to the challenge," he said.
"I just want to make it to the top."
The challenge will be difficult but it's nothing compared to the challenge patients with Motor Neurone Disease face on a daily basis.
Passionate about helping people, Mr Pitt has been at Orchard Hills RFB for nine years, joining when he was about 15-years-old with his neighbour.
"I've sort of become a permanent fixture to the place," he laughed.
The now 17-year-old Ms Dal Santo has also been at Orchard Hills RFB for years, starting as a cadet at 12-years-old.
"I honestly love it, it's like my second family, my second home," she said.
"All the guys at the station are like my big brothers.
"When I finish school I want to become a PE teacher, but the dream is to join Fire & Rescue NSW in a paid position."
The pair said training has been very difficult but is going very well so far. They've been training vigorously by climbing any stairs they're able to find, frequenting the stairs near Knapsack Bridge.
Every dollar raised will directly support vital research at the Macquarie University Motor Neurone Disease Research Centre.
To support the Orchard Hills RFB team as they fundraise for Motor Neurone Disease, visit firiesclimb.gofundraise.com.au/page/OrchardHillsRFBforMND.
Emily Newton is the Weekender's police and political reporter. Emily is also the Weekender's Senior Journalist.