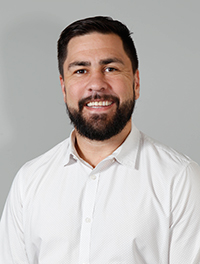 This week I wanted to tell Weekender readers about my past month working with the U17 Minchinbury Jets Junior Rugby League side, who this Sunday morning will play against rivals St Clair for Grand Final glory.
Roughly a month ago I approached the team's coach, Michael White, about helping out this group of talented boys in any way I could, and he was more than keen for me to come in.
I attend regular training sessions and work on little things with the boys, while the last couple of weeks I've had the privilege of running the water on game day.
While some parents of players on opposing teams are a tad jealous of me being out there, what I'm doing is perfectly within the rules as long as I don't point players into position and I'm on the field when my side has possession.
Being out there, talking to the kids, seeing their excitement and connecting with them has really changed my outlook on where my future coaching career may lie. It's certainly opened my eyes to another possible avenue in the great game of rugby league.
I must admit it's been really exciting seeing these kids grow and improve in the short amount of time I've spent with them, and I can't thank Michael and the club enough for accepting me in.
I'm nervous before each game, it's like I'm playing again.
When the boys win and they sing that team song, it gives me chills and reminds me of being 16 and when I started out. I have to confess that I have to learn to pull it back a bit and remember that these boys are teenagers and growing young men, but honestly this has been a very humbling experience and something more former NRL players should consider to give back to the game.
So often we hear that players don't give enough back and, to be truthful, it can be difficult to fit within your schedule when you're still playing.
All this is voluntary, I don't get paid. I just wanted to help out a young local side and honestly it's been one of the best, most humbling experiences of my life.
I can't wait for the Grand Final this Sunday. Go the Jets!