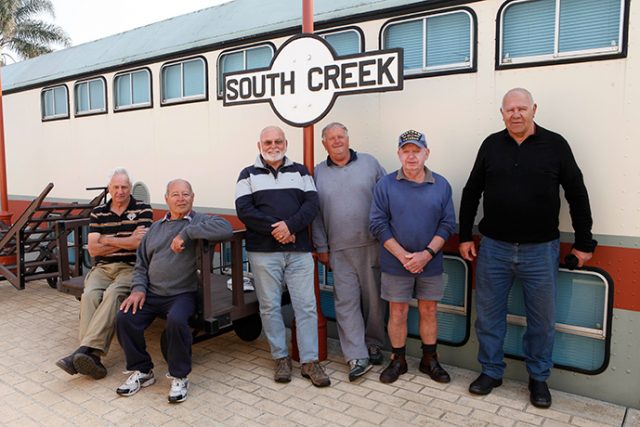 The years pass, but the memories rarely fade for those who experienced the bloody realities of war.
Locals will pay their respects to those who served in the Vietnam War on Vietnam Veterans Day today, August 18.
The date marks the anniversary of the Battle of Long Tan, which took place 51 years ago today.
In re-purposed train carriages at the St Marys Vietnam Veterans' Outpost, war veterans come together in support and solidarity.
They remember the Vietnam War and how it changed their lives.
"You've always got to reflect," President Tony Mullavey said.
"I was with one or two people when they were killed in action, and it means a whole lot to us. It was a long time ago, and we were only there for a short time, but in 1967, which is 50 years ago, we lost 85 Australians killed in Vietnam, and I think 1,900 wounded in action."
The Vietnam War was Australia's longest military engagement of the 20th century as almost 60,000 Australians fought in the war and more than 500 lost their lives.
Mr Mullavey said he remembers some of his time "vividly", which lead him to seek help for post traumatic stress disorder 20 years ago.
"Some things I am glad I have forgotten," he said.
"But they will always gnaw you at the back of the head. You will often see a lot of these vets are very fidgety, especially those that were in the infantry."
Michael Powers, who frequents the St Marys Outpost, is an American citizen who was called to serve for Australia 10 years after his family moved to Sydney.
With an Australian mother, he joked that both countries wanted him to serve, but Australia got in first.
"I just got a letter to report to Bankstown Hospital for a medical," he laughed.
He remembers the Vietnam War with a confliction that many veterans would understand.
"I wouldn't have wished it upon my worst enemy, but wouldn't have missed it for quids," he said.
While the Outpost services Vietnam veterans, it is open to anyone who has served and provides support to families and friends of those touched by war.
"We're all the same here. Anyone that wants to come in here can, and though 90 per cent of them are Vietnam veterans, we're getting a nibbling of younger veterans," Mr Mullavey said.
"Even though our conflict was 50 years ago… they have the same problems, probably even a little worse than what we had.
"Here, people get their peace."
With the motto 'honour the dead, fight like hell for the living', the Vietnam Veterans Association of Australia dedicates itself to caring for returned soldiers of all generations and their families.
Emily Newton is the Weekender's police and political reporter. Emily is also the Weekender's Senior Journalist.