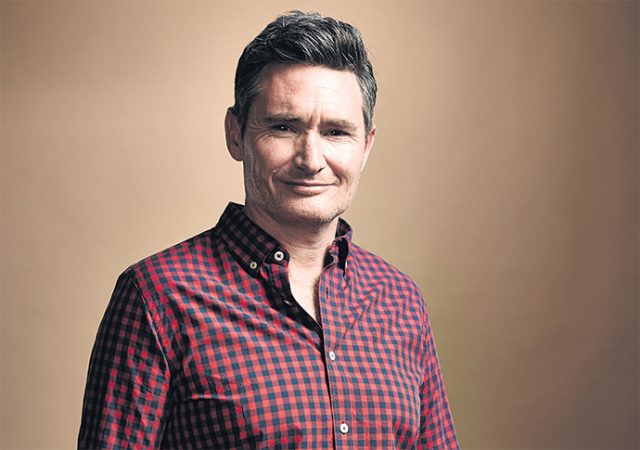 Dave 'Hughesy' Hughes made a name for himself by joking about being a single 20-something university dropout living on the dole.
These days the father of three takes most of his material from family life with his kids and wife Holly in St Kilda, a suburb he affectionately describes as 'Bondi without the good beach'.
"I wanted to have a fourth child, and when my wife said 'why?' I said 'just for the material'," Dave recalled.
"That wasn't a good enough reason apparently."
Those familiar and hilariously relatable tales of family life have been featured across stage, radio and TV on the myriad of projects that Dave has put his hand up for over the last few years.
"If someone offers you a reasonable amount of money to talk on stage for 20 minutes it's probably hard to decide 'nah I'll sit at home and watch 'MasterChef' tonight'," Dave laughed.
"Combine that with the fact that I love being on stage wherever it is, there's a lot of motivation for me to not stay at home basically."
Local audiences will get a taste of the iconic Aussie funnyman when he brings his new show 'Deluded' to the Evan Theatre at Penrith Panthers next month.
Unsurprisingly the name for the show came to Dave during his time as host of the 2016 season of the reality show 'Australia's Got Talent'.
"I had a feeling some of the contestants were deluded, basically," the KIIS FM star laughed.
"But then I thought, well we're all just really deluded living our lives."
While his face, and that iconic voice, have appeared all across the entertainment world, being on the stage is the place where Dave feels most at home.
"My wife says to me 'why are you flying to Mackay tonight to do a gig?'. I'm like 'because there's a crowd there that I can make laugh, so I want to do it'," he laughed.
"She'll say 'we don't need the money' but it's not about the money, I just love being in front of audiences.
"When I'm on stage and you've got a crowd really laughing hard and you're in the zone, that's a joy that I'm addicted to and I'll be chasing that for the rest of my life I'd say."
Dave Hughes will be bringing his show 'Deluded' to the Evan Theatre on Saturday, August 19 at 8pm. Tickets are $40. For more information or to purchase tickets, visit www.penrith.panthers.com.au or call 4720 5555.