If you've ever had a conversation with Penrith legend Ross 'Rossco' Hutchison, you know he's lived a prosperous, meaningful life.
With stories from careers in television, choreography and cabaret that could fill a dozen life times, his story has been immortalised in his biography, The Sky is Not the Limit written by Maggie Richardson.
Despite his outgoing and whimsical persona, Mr Hutchison is a humble and shy man who has been blown away by the book's reception.
"I've had an amazing career, for one little bloke, I look back and even I'm amazed," he said.
"I think, how did one little bloke get to do all the things that book represents? And there's still far more to come."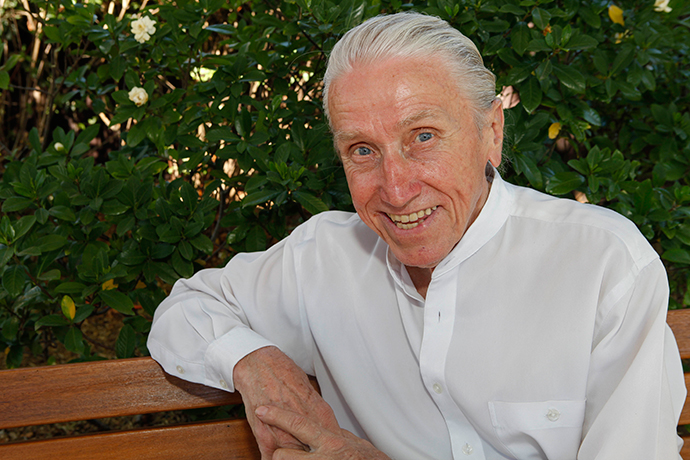 From dancing in front of the Queen and Prince Phillip, to having a move he created still performed in gymnastics at the Olympics to this day, there's not much Mr Hutchison hasn't done.
"I wasn't born with a silver spoon in my mouth, I battled my way through life," he said.
"I've never backed off, I've grabbed opportunity with both hands to hopefully do the best job I could possibly do."
His passion for performance first began when, at only four-years-old, he marched on to centre stage and took over someone else's show.
"I don't know what motivated me to get up there, but there I was, in the middle of someone else's concert in centre stage singing 'Goodbye Little Yellow Bird' and the place went bananas for me," he laughed.
He doesn't have a bad bone in his body, but his outpourings of love and integrity have left him vulnerable to some "very unkind people" in the past.
"You stick your head above the trenches and every bugger wants to have a shot," he said.
But his jolly spirit is never diminished as he is one of the best people you could ever meet, awarded Penrith's Citizen of the Year for 2017.
With a production company currently looking at turning his life into a film, Rossco's story is still only at the beginning.
The Sky is Not the Limit – Talent is Only the Beginning, is available to buy now and can be ordered from most book stores.
Emily Newton is the Weekender's police and political reporter. Emily is also the Weekender's Senior Journalist.