She was rejected time and time again and told she'd never achieve her dream of becoming a mechanic, but Monica Miruzzi is having the last laugh.
The single mother of four has landed her dream job at the NRMA Car Servicing Centre in Penrith, proving her critics wrong in the process.
Starting her apprenticeship in January, Ms Miruzzi said fixing cars was always a dream of hers.
"My oldest son is in Year 6, and now that he is a little bit older, I can start focusing on me," she said.
"I ride bikes and I've always had crappy cars. Being a single mum, you can't afford a good car, so I always wanted to learn how to fix them and how to make them run better.
"I want to be a fully qualified technician, and who knows what the future will bring with the NRMA."
Ms Miruzzi said she likes getting her hands dirty, assisting with anything she can.
"I'm helping my foreman with car services, log book services, fixing tyres, pulley systems – they've got me everywhere," she said.
After being knocked back for dozens of applications and interviews, Ms Miruzzi couldn't believe her luck when she landed the gig, beating over 250 applicants for the Penrith spot.
"I received an email from the NRMA and I didn't respond to it straight away. I rang the store and I said, 'you know I'm 34 and a single mother with four little children'," she recalled
"They said to me, 'I don't care if you're tattooed from head to toe, I don't care what God you believe in. Are you passionate about being a mechanic? Because that's all that matters'."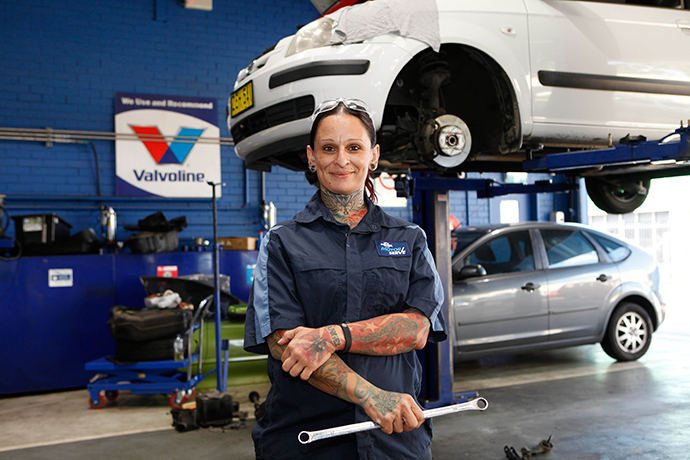 While her bosses never doubted her ability, she still gets the odd look from customers from time to time, and has been asked if she was the receptionist on more than one occasion.
Ms Miruzzi is one of six female first-year apprentice mechanics to join the NRMA's Car Servicing Centres in 2017, showing that women are breaking down traditional stereotypes.
"I'm not just a female, I'm a single mum, I'm tattooed from the neck down, and today I laugh at anyone who ever told me I'd never get this," Ms Miruzzi said.
"There's nothing that can't be achieved if you don't have drive or passion about it. You get out what you put in."
Emily Newton is the Weekender's police and political reporter. Emily is also the Weekender's Senior Journalist.