EXCLUSIVE
A Kingswood man who conspired with his girlfriend to recant her domestic violence statement to get him out of prison has been ordered to perform 400 hours of community service work.
Police obtained 11 lawfully intercepted telephone calls between the man, 31, and the woman where they "hatched an agreement" to get the victim to change her evidence, Penrith Local Court heard.
According to the agreed facts, the couple discussed the allegations in depth and determined a possible scenario they could use to have the victim retract her statement, but not be prosecuted herself.
While Magistrate John Favretto found the victim to be "more than a willing participant" and acknowledged there were no threats of violence, court documents reveal an underlying level of manipulation so common with domestic violence abuse.
"You need to get me out of here," the offender says during one of their conversations.
The woman replies: "This is not what I wanted."
He says: "How many times have I told you, you can't just ring the police. You can't trust them. I've tried to tell you that, look what's happened. I've told you a thousand times. You won't get in too much trouble, just do what you've got to do."
The man, who shares two children with the woman, was charged with 'act with intent to influence a witness', while his partner was convicted of tampering with evidence and handed a good behaviour bond earlier this year.
The court heard the man wound up in jail after being charged with 'stalk', 'intimidate' and 'contravene AVO' when he used a hammer to try to break the mesh off a screen door when his partner refused to let him in.
The Crown urged Magistrate Favretto to consider general deterrence when handing down his sentence, saying it was often the case that victims do retract from their versions, which was difficult to prove.
Magistrate Favretto determined it would be detrimental to the offender's drug rehabilitation to send him to jail, deciding to hand down a Community Service Order in lieu of full-time custody.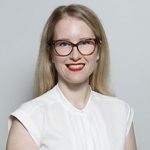 Alena Higgins is the Weekender's Senior News Reporter, primarily covering courts and Council issues.