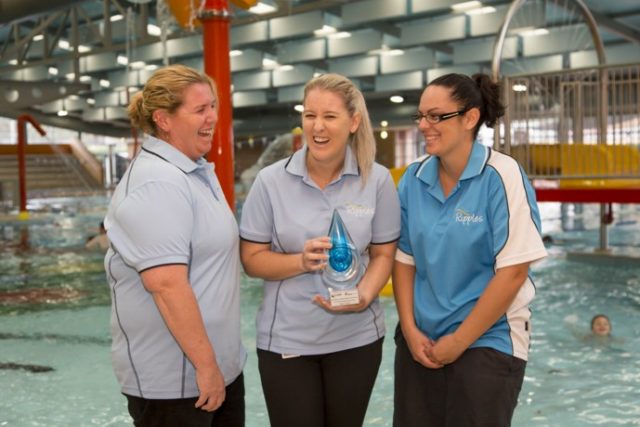 Ripples Leisure Centre is making waves after winning the AUSTSWIM NSW Swim Centre of the Year Award.
Aquatic Programs Coordinator Tania Khamhom said the award recognises the hard work of the swimming school.
"We are at the top of our game in the state and with all the work that we're doing with the community,"she said.
"Ultimately, the best goal and reward we have is teaching children the important skill that will someday save their life."
The award highlights the commitment of Ripples Leisure Centre staff in water safety education initiatives that go above and beyond the standard offering of swimming lessons.
"We can have all these great ideas and introduce all these concepts and initiatives to bring people in, but if they weren't delivering at the standard that we expect then none of this would be possible," Ms Khamhom said.
"We really like to create a family environment here rather than just feeling like a number doing a lesson."
The club's success is shown through rising membership numbers.
Three and a half years ago Ripples sat at 1,600 students, while the St Marys site today teaches almost at 2,400 students.
"It's about engagement, it's about making that engagement special because a lot of kids are coming in terrified," Ms Khamhom said.
"You tell them not to go around water, and not to talk to strangers, and here you are throwing them in the water with strangers.
"That can be really terrifying to some kids, so you really need to build that rapport and trust with students first and foremost before you can educate them about swimming safety."
The award is being celebrated as a group effort, as Ms Khamhom credits all staff across their three facilities for the success.
To celebrate, Ripples is offering a special where new customers who pay for the remainder of block one and all of block two before the end of March will receive two lessons free.
Following the win, Ripples Swim School is a finalist for the National AUSTSWIM Awards that will be held in September.
Emily Newton is the Weekender's police and political reporter. Emily is also the Weekender's Senior Journalist.