A local mother-of-two who turned to the drug 'ice' and succumbed to a life of crime after the death of her brother will be eligible for release sooner than expected.
Tammy Rukin, 37, was successful in reducing her non-parole period when she faced Acting Judge Norman Delaney at Penrith District Court on Tuesday for a severity appeal.
The court heard the mother-of-two had wound up in jail after breaching a suspended sentence by possessing prohibited drugs, resisting police and failing to appear at court.
Ms Ruskin's lawyer told the court the appellant's criminal history only began in December 2014, not long after her brother was murdered.
He explained she became "obsessed" with trying to assist police to obtain evidence and began using the drug 'ice' around the same time.
Her lawyer said being incarcerated had been a much-needed "circuit-breaker" and "wake up call".
"She needed to go to jail to stop the offending and to appreciate her children," he said.
The Crown agreed that a longer period of supervision on parole was needed if she was going to turn her life around.
Her head sentence was increased from six to 15 months but her non-parole period was reduced to three months.
With time already served, she will be eligible for release from prison on March 14, 2017.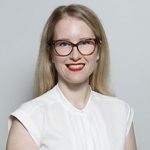 Alena Higgins is the Weekender's Senior News Reporter, primarily covering courts and Council issues.