A man who assaulted a service station attendant and was caught "red handed" with prohibited drugs in custody has been sentenced to 12 months jail.
Simon Hayek appeared before Penrith Local Court via video link last Friday to be sentenced for the crimes, which also included assaulting a prison officer by spitting on his face.
Magistrate Roger Clisdell said attacks on late night corner stores and service stations needed to be stamped out as the victims were at a "great disadvantage" – usually on their own performing a service to the community.
The court also heard Mr Hayek was caught "red handed" on CCTV accepting drugs contained in balloons from someone visiting him at Parklea Jail.
"Everyone knows drugs readily become available in a custodial environment – people who bring them in should expect to go in themselves," Magistrate Clisdell said, adding it doesn't matter if you are caught before they go into the general prison population.
He was equally scathing of the defendant's attack on the prison officer, saying spitting was once considered "distasteful" but contamination that can occur as a result of bodily fluid to the face now made it more "egregious".
He is eligible for release on parole on November 9.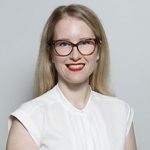 Alena Higgins is the Weekender's Senior News Reporter, primarily covering courts and Council issues.