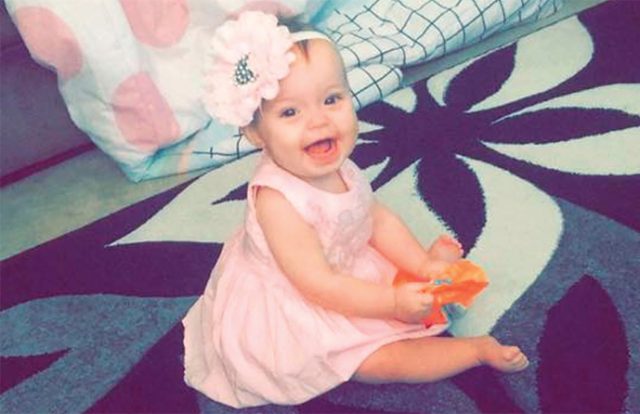 Seven-month-old Isabelle Rhind is fighting for her life after being diagnosed with a rare cancer last December, and the community is coming together to support her.
Isabelle's godmother, Jessica Blanch, recalls how the family's world was turned upside down.
"In December she started to be sick, she was vomiting all the time and wasn't keeping her bottle down," Ms Blanch said.
"I was at her house one night and she was really lethargic, pale and her feet swelled up."
Isabelle was taken to hospital where a growth was found on her right kidney that measured 15cm by 10cm.
Soon afterwards, Isabelle was diagnosed with Wilms tumor, or nephroblastoma, and on Christmas Eve she underwent a six hour operation to remove the tumor.
"It needed to be removed because it was squashing her lung, stomach and liver. Her body was tiny and the tumor was so large," Ms Blanch said.
Doctors told the family that the tumor was one of the biggest they had seen in someone of Isabelle's age, believing it began when she was still in the womb.
Isabelle's mother, Brooke Rhind from Penrith, is a single parent with two other children, Sean and Hunter.
They spent Isabelle's first Christmas in Westmead Children's Hospital.
By the time the tumor was removed, it had already spread to Isabelle's lungs, dropping her survival rate from 95 per cent to 50 per cent.
"We don't know what way it will go," Ms Blanch said.
"She will be very sick, it's a really hard time for everyone. I love her like I love my own child.
"I feel helpless for Brooke because I can't do anything to support Brooke… She's too proud to ask for help, but she needs it.
"I don't know how she does it, it's got to be the love of her kids. She loves her kids so much and that gives her strength."
This week Isabelle began a cocktail of five different chemotherapies, putting Ms Rhind $150 out of pocket a week to cover treatment.
Financial assistance is a small burden Ms Blanch hopes she can ease for her best friend, setting up a GoFundMe account which has currently raised over $1,000 to assist in treatments.
Donations can be made at www.gofundme.com/help-our-little-princess-isabelle.
Emily Newton is the Weekender's police and political reporter. Emily is also the Weekender's Senior Journalist.