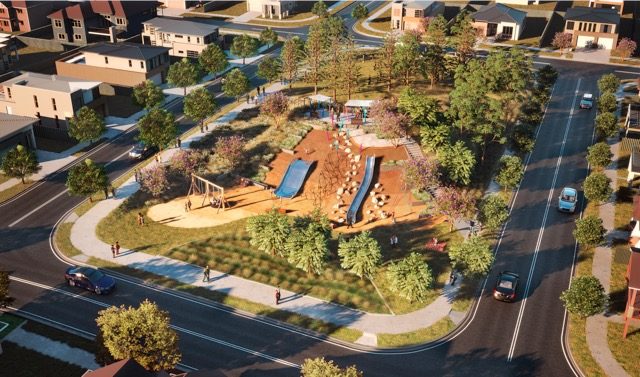 Developer Legacy Property kick-­started activity in the local property market last weekend with the release of 55 lots in the new community at Caddens Hill.
The new land release is set along Cadda Ridge Drive, and is well placed to enjoy the planned 3500sqm park at Caddens Hill, and benefit from the new Kent Road access ramps to the M4.
Legacy Property CEO Matthew Hyder said the new on/off ramps would save residents 15 minutes of travel time, and proximity to the future sporting fields made these lots perfect for young families.
"This release also offers great choice and value for money," Mr Hyder said.
"Buyers can choose from 47 blocks of land, which range from 300 to 635sqm, starting at $355,000, or, eight house and land packages, including double storey, four and five bedroom homes priced from $835,925.
"The market continues to tell us that most buyers just want land, but we've included some house and land packages for people who need the certainty of an 'all-­in cost'."
For these buyers, Legacy Property has partnered with some of Australia's leading builders including Burbank, Bellriver, Eden Brae, Icon and Rawson Homes.
"One of the things that makes Caddens Hill so appealing is that it's surrounded by existing infrastructure, housing and services, including several well established schools – you just don't get that in a lot of new communities," Mr Hyder said.
Caddens Hill is part of the Penrith Local Government Area and its elevated site offers views to the Blue Mountains.
The new community is adjacent to the Western Sydney University and TAFE, close to the Nepean Health Precinct and just a seven-­minute drive from Penrith's city centre.
It is also well placed to take advantage of the future Western Sydney Employment Lands and Western Sydney Airport, Mr Hyder said.
"We also know that the Federal Government is investing heavily in Sydney's west," he said.
"This will mean improved infrastructure and transport links, more services and job opportunities."
Caddens Hill will be delivered over six stages and is due to be completed by late 2019.
Visit www.caddenshill.com.au to find out more.