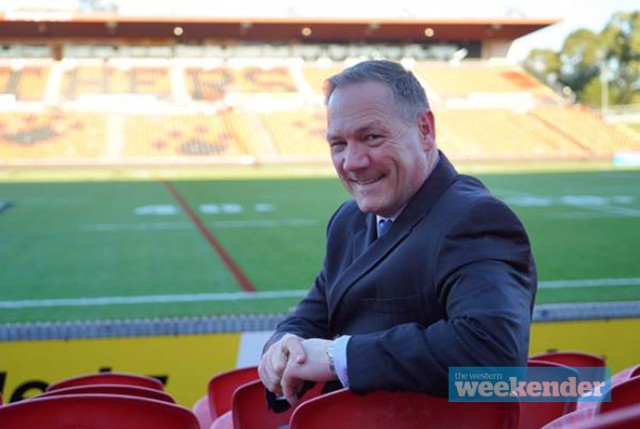 The Weekender has produced thousands of stories across its print and digital forms this year. Here's how 2016 unfolded…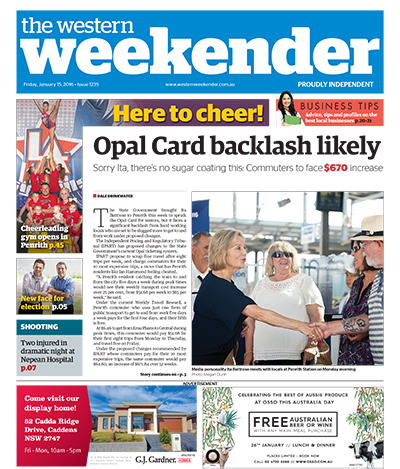 JANUARY
Proposed changes to the Opal ticketing system reveals that western Sydney commuters will almost certainly be worse off, with a Penrith resident travelling to the city likely to experience a 25 per cent cost increase.
Penrith is a rocked by a double shooting at Nepean Hospital's Emergency Department. Two men, including a police officer, were shot when the Emergency Department descended into chaos. A man was arrested while Senior Constable Luke Warburton later recovered from his injuries.
News Local confirms the axing of the historic Tuesday edition of the Penrith Press.
Local cricket star Naomi Stalenberg is named in the Southern Stars squad for the T20 series against India.
More job losses hit Penrith with confirmation that the local Trustee and Guardian office will be closed, with current services moved to Parramatta.
Wayne 'Willmo' Willmington is named Penrith's Citizen of the Year.
FEBRUARY
Traffic chaos hits St Marys when Metro Petroleum runs a 'free petrol' promotion, with residents lining up for hours to secure a tank of fuel at no cost.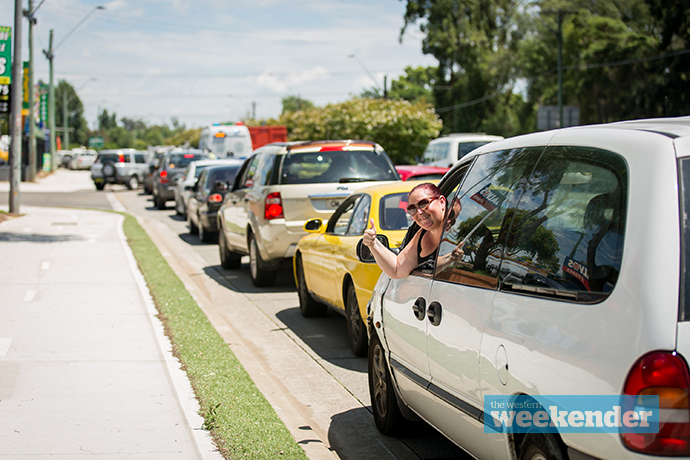 The community mourns following the death of 17-year-old Kieren Birks in a tragic accident at Cranebrook. The crash sparks angry calls for the Northern Road and Andromeda Drive intersection to be upgraded. Funding is later promised.
St Marys locals express their frustration with confirmation that the local RMS registry will close.
Penrith and Parramatta do battle in the traditional Battle of the West trial at Penrith Stadium.
In a major shock, Warren Wilson mysteriously departs as CEO of the Penrith Panthers Group. His 'resignation' cited personal reasons.
A motorcyclist is tragically killed in an accident at Mulgoa, while an 11-year-old girl sustains injuries in the crash.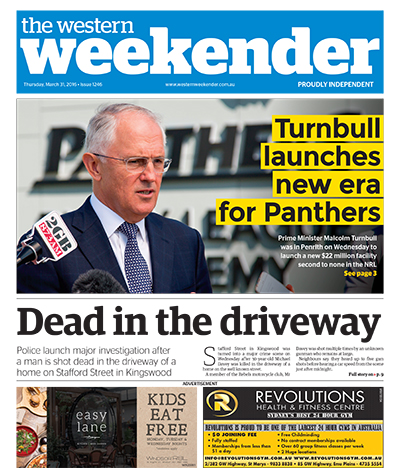 MARCH
Prime Minister Malcolm Turnbull visits Penrith to launch a new $22 million facility second to none in the NRL.
Brian Fletcher is appointed as new CEO of the Penrith Panthers, while the NRL season gets underway with the Panthers opening their year with losses to Canberra and Canterbury.
Retail giant Dick Smith closes its Penrith and Jamisontown stores.
Controversy surrounds a $50,000 trip to Asia by Penrith Mayor Karen McKeown, Deputy Mayor Ross Fowler and a Council officer.
Londonderry MP Prue Car earns a promotion into the NSW Shadow Cabinet.
The Penrith Baseball Club achieves a feat no team has done in more than a decade – claiming back to back premierships in the NSW State Baseball League competition.
Penrith City Council bans circuses with exotic animals from operating on its land, but later reverses the decision.
Police launch a major investigation after man is shot dead in the driveway of a home on Stafford Street.
APRIL
The Wanderers play their final home game at Parramatta Stadium.
The Wanderers qualify for their third Grand Final with an epic 5-4 win over Brisbane Roar, but go on to lose the season decider.
The Renshaw Cup is run and won at Penrith Paceway.
A new restaurant strip along the Nepean River at Tench Reserve is given the official green light by Penrith Council.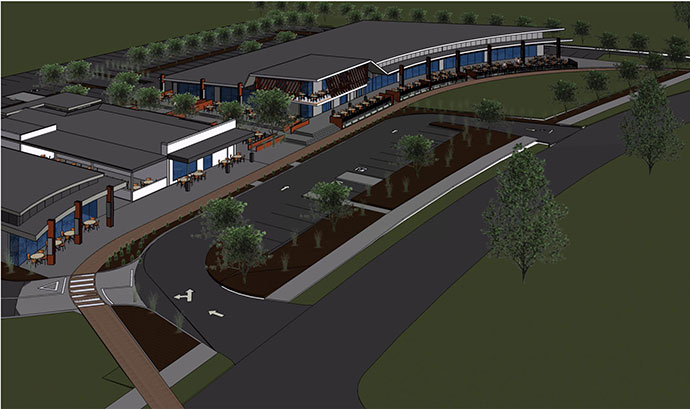 An epic Federal Election campaign begins with Liberal candidate Fiona Scott and Labor's Emma Husar going head to head after Prime Minister Malcolm Turnbull calls a July 2 poll.
Penrith pauses to remember those who served in all wars with ANZAC Day commemorations in the CBD.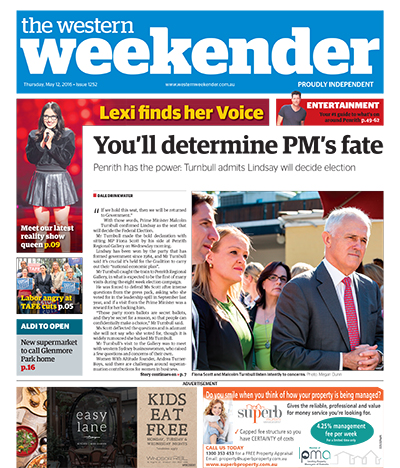 MAY
Prime Minister Malcolm Turnbull visits Penrith, declaring Lindsay as vitally important to his government's chances of re-election. During the visit Fiona Scott becomes engulfed in a controversy after refusing to say who she voted for in the 2015 leadership spill.
Penrith captain Matt Moylan and winger Josh Mansour are both selected to make their State of Origin debuts for New South Wales.
Police launch an appeal for information after the body of a 51-year-old woman is found in the Penrith CBD.
JUNE
Labor holds its official campaign launch in Penrith, a clear sign that Bill Shorten believes the seat of Lindsay is winnable.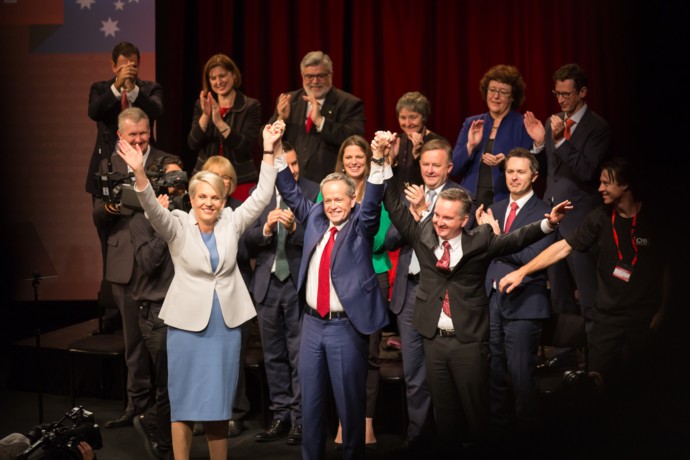 Malcolm Turnbull visits McCarthy Catholic College to make an education announcement as the election campaign heats up.
The Greens demand negative gearing be reformed, with Lindsay candidate Kingsley Liu claiming locals are being locked out of the housing market.
The Western Sydney Wanderers announce the departure of foundation player Mark Bridge.
Construction begins on the new-looked Glenmore Park Town Centre.
Three horses from Riding for the Disabled Association lose their lives after a weekend of wild weather in Penrith.
The State and Federal Governments combine to promise a much-needed upgrade to the Northern Road / Andromeda Drive intersection in Cranebrook.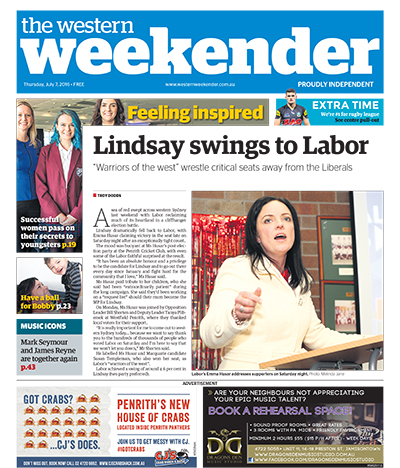 JULY
In a stunning upset, Emma Husar claims the seat of Lindsay for Labor at the Federal Election.
The future of the Richmond Race Club at Londonderry is thrown in doubt when the NSW Government announces a ban on greyhound racing.
A devastating fire destroys a pharmacy in Werrington.
Officials ask for patience from St Marys businesses as upgrades of Queen Street continue.
Penrith City Council threatens to begin legal proceedings against the Penrith Business Alliance as questions are raised about the use of public money.
Liberal Councillor Ben Goldfinch announces he won't contest the September Local Government Election.
AUGUST
Penrith cheers on several local athletes at the RIO Olympics, including Jessica Fox who wins a Bronze medal.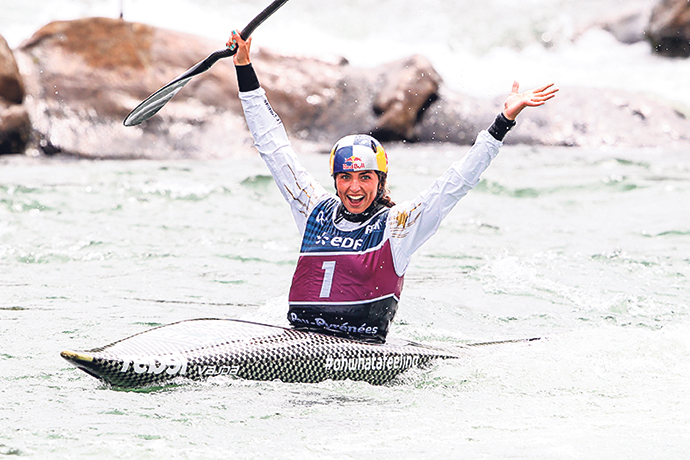 The Reserve Bank cuts interest rates to 1.50 per cent.
The State Government reinstates vital funding to the Penrith Women's Health Centre for a domestic violence case worker.
The Western Weekender exclusively reveals that Penrith Panthers rugby league CEO Corey Payne has parted ways with the club.
A nine-month-old girl dies in hospital after being found in the bathtub of her North St Marys home unconscious.
Penrith wins the Women's Youth League Division 1 netball competition.
NSW Transport bungles the taxi zone re-location at Penrith Station, shutting a kiss and ride area for commuters that had been in operation for some 30 years. The decision is later amended.
SEPTEMBER
The Penrith Panthers produce a stunning Finals win over Canterbury, but are eliminated from the 2016 competition at the hands of Canberra the following week.
The Independent Commission Against Corruption finds that former State Londonderry MP Bart Bassett "knowingly solicited a political donation from a property developer", however opts against seeking further legal action.
Work officially begins on the new Nepean River Green Bridge.
Lindsay MP Emma Husar delivered her maiden speech in Parliament.
Locals go to the polls to vote at the Local Government Election, with no major surprises. John Thain is elected Mayor for a two-year term.
The iconic Schubach's Newsagency closes its doors after 77 years in Penrith.
The GWS Giants narrowly miss out on qualifying for their first AFL Grand Final.
OCTOBER
Trent Merrin caps off a strong year at the Panthers by winning the club's prestigious Merv Cartwright Medal.
The Panthers lose the Holden Cup Grand Final.
A 15-month-old girl is found in a car with unconscious adults and drugs at Tench Reserve.
Mike Baird announces the greyhound industry will be granted a reprieve, halting its shutdown.
Controversy erupts at Emu Plains as plans are revealed for a new maximum security prison in the area.
Two truck drivers are killed in a horrific crash at Erskine Park.
A grass fire at Colyton is the first sign that a dangerous fire season lies ahead.
The State Government confirms the M4 overpass at The Northern Road will be demolished in the biggest ever road project in Penrith.
NOVEMBER
The REAL Festival is held in Penrith for the first time, attracting thousands of people to the Nepean River.
The Penrith Panthers announce a plan to revert to their classic 1991 colours for the 2017 NRL season.
Police charge a 16-year-old boy after a major fire emergency erupts in Cranebrook.
A major fire at Londonderry and Llandilo threatens home, but brilliant work by fire crews ensures everything is saved.
Karen Wellard wins the Penrith's Worst Kitchen competition.
Work begins to improve car park capacity at Penrith Station.
The State Government finally listens to concerns about the state of Nepean Hospital, with Premier Mike Baird announcing a half billion dollar upgrade.
DECEMBER
Police make a number of arrests during drug raids in Penrith.
Two women are injured in a horrifying attack at a home in Emu Plains, with police describing the scene as "harrowing".
Badgerys Creek Airport is finally given the tick of approval by Prime Minister Malcolm Turnbull.
Andrew Nolan is sentenced to a minimum of eight years and six months behind bars for the bashing of Bobby Webber in 2014.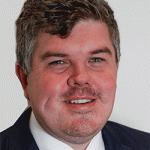 Troy Dodds is the Weekender's Managing Editor and Senior Writer. He has more than 15 years experience as a journalist, working with some of Australia's leading media organisations.