A man who assaulted a good Samaritan who tried to intervene in a domestic dispute will spend Christmas behind bars.
Michael Morris, 21, appeared before Penrith Local Court last Thursday charged with 'assault', 'affray', 'intimidation' and 'damage property'.
The court heard Morris had lashed out at the victim, breaking his glasses, when the commuter tried to come to the aid of his girlfriend during a heated argument on the train.
Morris' lawyer submitted his client had little recollection of the events of November 13 due to his level of intoxication.
But Magistrate Roger Clisdell said the community was fed up with "drug addicted ratbags" running around causing havoc, determining a "short, sharp spell in custody" was "entirely appropriate to fix his behavioural issues".
"To say he was out of control would have been putting it mildly," he said.
"Learn from your time inside and behave like a proper human being, not a ratbag, when you get out," he said, addressing Morris who sat in the dock.
He was sentenced to five months jail and is eligible for release on parole in February.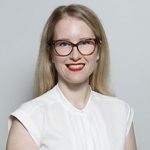 Alena Higgins is the Weekender's Senior News Reporter, primarily covering courts and Council issues.