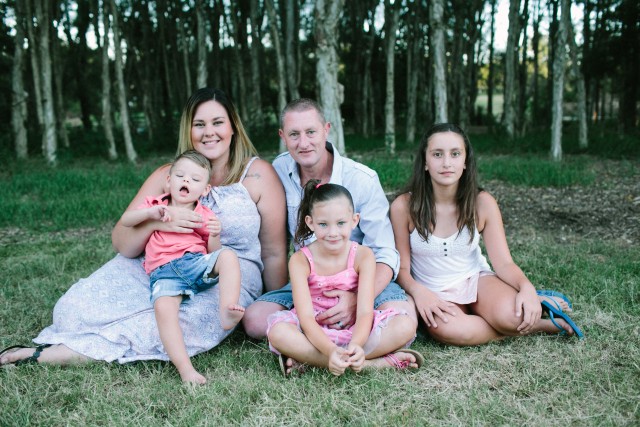 Glenmore Park toddler Bobby Webber's abuser has been sentenced to a maximum of 12 years and six months behind bars.
Andrew Nolan appeared in Darlinghurst Courthouse today where he was handed a minimum sentence of eight years and six months in jail.
With time already served, it makes him eligible for parole in April 2023.
The original sentencing was 14 years but with a 10 per cent discount for pleading guilty, it brings it down to 12 years and six months.
As he was walked out of the courthouse, Mr Nolan yelled "f**k you and see you in 12 years".
The two-and-a-half-year-old's family, including his mother Elise, bravely sat in the courthouse as the horrific details of how Bobby's injuries came to be were retold once again
At just seven-months-old Bobby, affectionately known as 'Bobby The Brave', was abused by his non-biological uncle leaving him with multiple skull fractures, brain damage, burst blood vessels behind his eyes – from being violently shaken – and a fractured vertebrae.
"It was extremely hard and difficult for us to hear that again," Mrs Webber told the Weekender after the sentencing.
"We're just so disappointed in the result – Bobby received a life sentence and I fully believe Andrew should have too.
"The fact he is still lying about details of the night and not actually forthcoming with the truth is hard – he will just do anything he can to receive a lesser sentence."
On Tuesday, Elise took to the 'Bobby the Brave' Facebook Page to detail the grief the family has gone through over the past two years ahead of the sentencing.
"How does a person sit in the same room as the man who tried to kill her baby," she wrote.
"As the memories come flooding back of the time he hugged me in the hospital and promised me he didn't hurt my baby I realise that I missed an opportunity to hurt him as much as he hurt my family, and especially my precious baby Bobby and that pain is excruciating.
"We have waited so long for this day and finally will be able to close this chapter. But for us, the book is no where near finished… #Justice4Bobby."
It's been a long time coming for the Webber family to finally find out what punishment Mr Nolan would receive.
The sentencing hearing was originally held on Friday, October 28, where Mrs Webber read out her victim impact statement.
She boldly told Mr Nolan "I hope my son's face haunts you for the rest of your days".
The sentencing was adjourned until Friday, December 2 due to incomplete applications from the defence for protective custody.
The hearing was then rescheduled until today Thursday, December 8 due to the Judge coming down with an illness last week.
Mrs Webber said the community is just as disappointed about the result.
"To hear that they feel like he is capable of rehabilitating is beyond a joke – it's really disheartening," Mrs Webber said.
"We just want to thank the community for all their continued support and they're let down just as much as we are – we can rally together to make changes so victims like Bobby don't have to suffer like we all do in the future."
Mrs Webber said she hopes Mr Nolan suffers.
"I really hope that he suffers with his own thoughts and his own nightmares and with the depression he is apparently suffering from," she said.
"I hope what he has done haunts him for the rest of his life."