Penrith great grandfather Ross Taylor is proving age is well and truly no barrier when it comes to trying new things.
Last Friday morning the soon to be 95-year-old hopped into his car and drove himself down to Eva Bory's Swim School in Emu Plains to partake in his first ever swimming lesson.
While Mr Taylor was by far the oldest person at the pool last week, his enthusiasm for swimming outshone nearly everyone in the building.
When asked why a man of his age was giving swimming a try after almost a century on Earth, Mr Taylor's response was straight to the point.
"My daughter told me to," he laughed.
"Look, I've had an awful lot of operations over the years. Not only have I had just about everything in my legs replaced but I've had a broken shoulder and a broken hip.
"My daughter said 'the thing you've got to do is walk in the water' and I've been doing that."
The former drama teacher made his way into the water a few weeks earlier but after a while was beginning to get "bored" with shuffling up and down the pool. So Mr Taylor thought he would expand his pool repertoire with some lessons at the local facility.
"It was getting a bit boring and I wondered to myself if I could swim… but I couldn't, I kept going crooked down the lane," he said.
"I know I'm never going to swim well but if I can do about five strokes of Breaststroke, put my feet down and then do another five strokes – that would equate to a whole lap."
Growing up in England before immigrating to Australia, Mr Taylor hardly ever stepped foot into a pool due to severe asthma issues that kept him bed ridden for months on end.
Mr Taylor said he wanted to gain confidence (and the ability to swim straight) out of his first swimming lesson.
"If I can put my head under water and if I can get a tip about not swimming crooked, I'll be happy," he said.
Mr Taylor is also hoping his first swimming lesson will encourage others who are older to get in the water.
"I would certainly encourage others my age to give it a go because it doesn't matter how old you are," he said.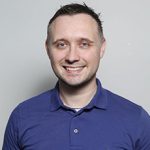 Nathan Taylor is the Weekender's Deputy Editor and Senior Sports Writer. He also compiles the weekly Chatter on the Box TV column. Nathan is an award-winning journalist, who has worked at the Weekender for nearly a decade.