The owner of three dogs alleged to have viciously attacked three people, including a police officer, in Penrith last night has faced court.
Kirk Wake, 29, did not apply for bail when he appeared before Penrith Local Court late this afternoon, with his lawyer saying there was simply not enough time to go through all of the offences with her client and obtain instructions before the court concluded for the day.
It is understood police laid fresh charges on Wake, who also faces intimidation offences, at lunchtime today.
Wake was arrested last night after emergency services were called to Parker Street, Penrith at about 7pm after two people were mauled in front of their home by three dogs, two of which were described as being of American Staffordshire-cross-Pitbull appearance.
Police from Penrith Local Area Command arrived to find a 48-year-old man with multiple severe bite wounds to both arms and legs, while a 43-year-old woman was bitten on the leg and hip area.
A female officer was also knocked to the ground by two of the dogs, sustaining a serious bite wound to her calf that cut to the bone. It is understood the 24-year-old underwent surgery on her injured leg earlier today.
Wake is due to reappear tomorrow where he is expected to apply for bail.
Meanwhile, a 31-year-old woman from the same house who allegedly assaulted a cameraman filming the gruesome aftermath of the triple victim dog attack has been granted strict conditional bail.
Shelley Kate Hoffman is charged with common assault of Timothy Campbell and damaging his tripod after she spotted the freelance cameraman filming the crime scene.
She was granted strict conditional bail at Penrith Local Court this afternoon, including a 2pm to 6am curfew, and is under house arrest at her Glenmore Park residence at all other times, except to attend the Nepean Centre for Addictive Medicine, her doctor, lawyer or to report daily to police.
She is due back in court on December 8.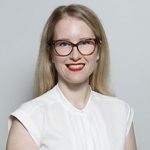 Alena Higgins is the Weekender's Senior News Reporter, primarily covering courts and Council issues.