When your Glenmore Park home backs onto Penrith Golf Course, you almost feel obliged to give the sport a crack.
That was the case for 17-year-old St Dominic's student Joshua Gadd, whose parents bought a property neighbouring the popular local course when he was 11.
It didn't take long before Joshua's dad introduced him to golf – and he hasn't looked back.
Earlier this month Joshua's golf game soared to new heights when he was announced as Golf Athlete of the Year at Western Sydney Academy of Sport's Annual Athlete Dinner and Awards Night.
Speaking with the Weekender, Joshua said he was very proud to win the coveted award.
"I've been with the Academy for three years, so it's pretty special to know that all the hard work is finally paying off," he said.
Joshua beat out 12 others to be named Golf Athlete of the Year after an outstanding 12 months that saw him win the State Age Junior Championships and finish fourth at the Singha World Junior Championships in Thailand.
Joshua said being part of the Academy has done wonders for his game.
"Even though golf's an individual sport, it's good to be in a team environment and learning off others," he said.
"The elite coaches give you great tips and you get to practice on some of the best courses. I've got a lot out of the Academy."
Also a member of the Academy is Joshua's younger brother Blade, who Joshua uses as motivation when out on the course.
"Blade and I practice every day together," he said.
"It's good having someone to challenge yourself out there."
With a few more major tournaments to come in 2016, Joshua hopes a career as a professional golfer is well within his sights.
"I'd like to play on the PGA Tour, which is the biggest tour in the world," he said.
"I'm currently in some pretty good squads that'll help get me on the right path and show me the way."
And to think Joshua would never have picked up a putter or a seven iron had it not been for his unique living arrangements.
"If we didn't move to the golf course, I have no doubt I wouldn't be playing today," he said.
"I can thank my parents for that."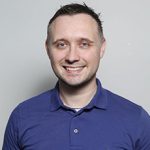 Nathan Taylor is the Weekender's Deputy Editor and Senior Sports Writer. He also compiles the weekly Chatter on the Box TV column. Nathan is an award-winning journalist, who has worked at the Weekender for nearly a decade.