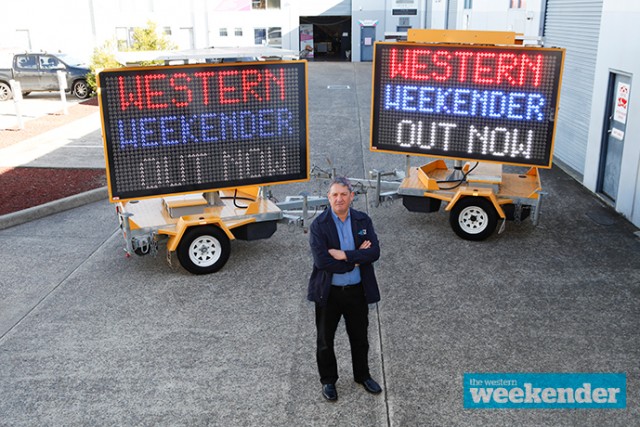 Penrith Council's recent crackdown on variable message signs (VMS) has been costing local businesses money, according to Peter Rech from Penrith Light and Sound.
Mr Rech said with Council's ban on business advertising on private land, he is losing the rental income from four of his electronic variable message signs of around $1500 per week.
"They're supposed to be supporting local business but they are prohibiting it because it's advertising," he said.
Butcher Tony Caruso, from Gourmet Meats in Emu Plains, said they used the VMS to let people know where they were, and it worked well to boost sales.
"It probably increased our business by at least 30 per cent, it worked really good for us," he said.
"We only had it for about two to three weeks and it just got busier, busier and busier. People were coming and saying they didn't know we were here."
The Gourmet Meats team positioned the sign on their own property and were advertising their daily specials, but were warned by Penrith Council to take it down or face a $6500 fine. There's some confusion around what can and can't be done as VMS are controlled by a complex web of the State Environmental Planning Policy and Council's Local Environment Plan and Development Control Plan.
Penrith Council cracked down on the use of electronic VMS for advertising around six weeks ago, after complaints from Roads and Maritime Services and other local businesses.
Representatives from the Penrith Valley Chamber of Commerce then approached Council on behalf of local businesses, and were told that VMS can be approved for an event, or following Development Application approval for short-term advertising on private property.
A Council spokesperson said approval has always been required for advertising signs unless it meets exempt criteria under a State or Local policy.
"Variable Message Signs do not meet exempt criteria unless they are traffic directional signage by or on behalf of a Roads Authority or approved by a Roads Authority as part of a Traffic Management Plan for a particular event," the spokesperson said.