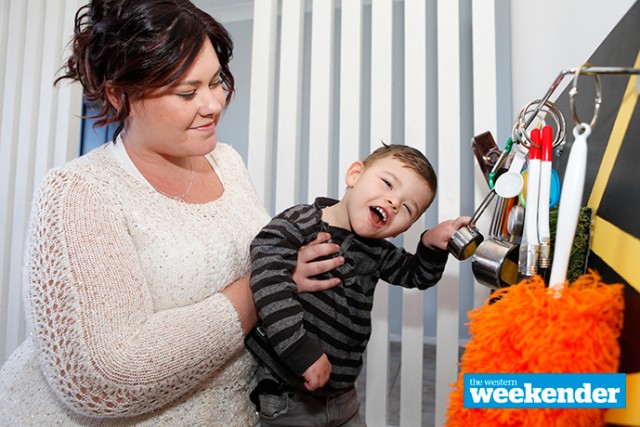 A Gala Ball will be held for Werrington County toddler Bobby Webber next month, as he continues the fight of his life despite doctors initially saying he wouldn't survive a horrifying attack.
The Weekender first spoke with Bobby's mum, Elise Webber, in February when Bobby's alleged abuser had just faced court, pleading guilty to his charges.
The two-and-a-half-year-old was allegedly beaten by his non-biological uncle in 2014 at just seven-months-old, leaving the healthy baby boy blind and a quadriplegic with cerebral palsy and epilepsy.
Now, four months since the Weekender's story, Bobby is enrolled in day care for one day a week and has had his therapy increased as he continues to grow stronger.
Mrs Webber said day care has had a big impact on Bobby's life.
"Bobby absolutely loves day care – he loves being socially interactive with other children his age and it has been great for his social development," Mrs Webber told the Weekender.
"He's just doing fantastic in all aspects and is making great progress, which is amazing."
Following the incident, a gofundme account was set up for the family to help them with the extra bills.
It has reached almost $29,000 since being launched.
"The response from everyone has just been so overwhelming and we couldn't be more grateful to everyone," Mrs Webber said.
"We will never be able to show everyone enough gratitude for how they have helped our little family."
Funds raised at the Gala Ball will go towards Bobby's overall care and the purchase of a Honda Odyssey vehicle, which the family can then have modified to cater for Bobby's wheelchair as he gets older.
"I really would love to see everyone on the night who have helped us so I can just thank them all for their generosity and give them a big hug," Mrs Webber said.
The Gala Ball will be held on Saturday, August 13 at 6.30pm at the Fernhill Room inside Penrith Panthers.
Tickets to the event are $120 per person, which includes a three course meal plus beer, wine and soft drinks.
"We are looking forward to celebrating the incredible life that Bobby has," Mrs Webber said.
For details on the event, visit www.facebook.com/bobbythebravest.