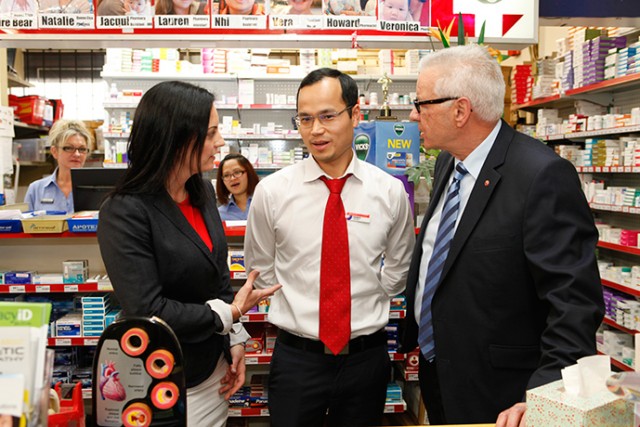 Colyton pharmacist Howard Mai fears a co-payment on prescription medicine will hit his customers, who are already struggling to afford medicine, very hard.
"The situation is real. We've got local customers who are struggling already in terms of affordability of medication," he said.
Mr Mai was visited by Labor Candidate for Lindsay Emma Husar and Senator Doug Cameron on Wednesday, to address concerns over affordability of health care.
He is concerned the Turnbull Government's increase to Pharmaceutical Benefits Scheme co-payments will force patients to pick and choose what medicines they can afford.
"People who take five medications or more, how do they decide? Is it for their asthma they're going to take, or is it for their blood pressure?" he asked.
Ms Husar said the Turnbull Government's plans to increase the cost of pharmaceutical medicine will hurt the hard working Colyton community.
"This community has some of the highest rates of diabetes, heart and also lung issues," she said.
"This is the eighth highest electorate in the country for bulk-billing, so when you talk about co-payments, families will go without."
Mr Cameron said the Labor Party will not support a co-payment on prescriptions, and if elected, will index fees for doctors and within 100 days, will legislate against the privatisation of Medicare.
He claims the Turnbull Government's moves are essentially the Americanisation of Australia's health system, and that without a healthy workforce, you can't grow jobs.