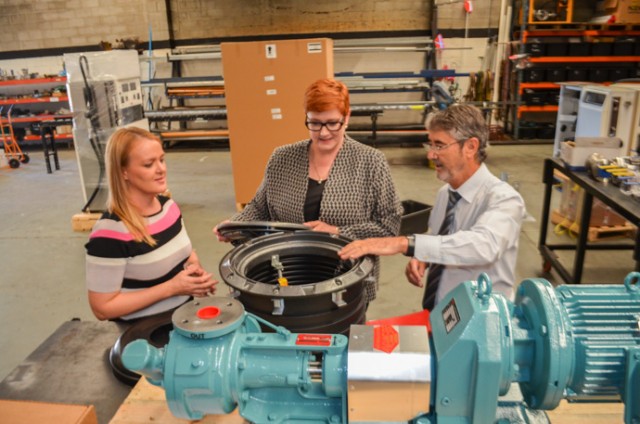 A local herself, Minister for Defence Senator Marise Payne was delighted to visit one local business that is literally fuelling the Defence industry.
Penrith-based petrochemical engineering business, Petrolink, has been contracted to the Australian Defence Force (ADF) for over 30 years, designing and installing petrochemical storage and delivery systems.
Today, Senator Payne and Member for Lindsay Fiona Scott met with Petrolink's Managing Director, Barry Boné, to discuss the business' relationship with the ADF and changes to company tax.
"Defence spends in excess of $500 million a year on fuel, so to have a core contracting organisation such as this, who has such a great longstanding relationship is very important to us," Ms Payne said.
Petrolink has offices in Darwin and Brisbane, and with their staff on a number of ADF facilities across the country, Ms Payne said the small to medium enterprise (SME) is embedded in the Defence industry.
"In our Defence Industry Policy Statement we have made it very clear that industry and business who work with us, and overwhelmingly SMEs like this, are what we call a fundamental input to capability," she said.
"That means they're a threshold participant in what we do in our engagement in business. To be able to visit an organisation here in our backyard is fabulous."
Ms Scott said Petrolink is a prime example of smart local people working in an innovative enterprise to provide positive outcomes for the region.
"The fact that our Defence forces are using innovative businesses like this one, that is a home grown family business here in Lindsay, is great news," she said.
As an SME, Petrolink is subject to the small business tax cuts outlined in the Federal Budget this month, that reduces the company tax rate to 27.5 per cent.
With the increase of the small business threshold from $2 million to $10 million in turnover, Mr Boné said the tax cuts will make a difference.
"There are so many small businesses in that threshold, $2 million you're a one man operation," he said.
"It makes it easier for us to look forward and know we can do something positive for the business."
He said Petrolink's unique position as a contractor means positive tax incentive also affect their major clients, which in essence flows down to Petrolink.