It was all about early starts last Thursday morning, as one local school highlighted the importance of their early intervention programs.
Shadow Education Minister Kate Ellis visited Corpus Christi Catholic School in Cranebrook with Labor candidate for Lindsay, Emma Husar to hear about and see the effects of Government cuts to education.
Principal Paul Devlin told the Opposition that schools need sustainable investment, after uncertainty in funding impacted Corpus Christi's early intervention programs.
"It's very hard to manage schools and school systems with fluctuating funding. We absolutely have to have needs-based funding, but we have to have some certainty," he said.
"We know learning takes time, so when you have a funding program that potentially runs for 18 months, it really makes you worry about how to provide the follow-up required for the most vulnerable children."
In January, Labor announced it would fully fund the six year Gonksi agreement the Abbott Government had reduced to four years, and reinstate $30 billion of school funding that was cut in the 2014 Budget over 10 years.
Ms Ellis said there's no bigger issue than education, and a Labor plan is in some ways a "referendum" on how schools are funded.
"Studies show if you're behind at the start, it's hard to ever get ahead… [But] we can't invest in a program if they're just going to be shut off," she said.
"Our commitment is to not just to see through the six year agreement but provide 10 years."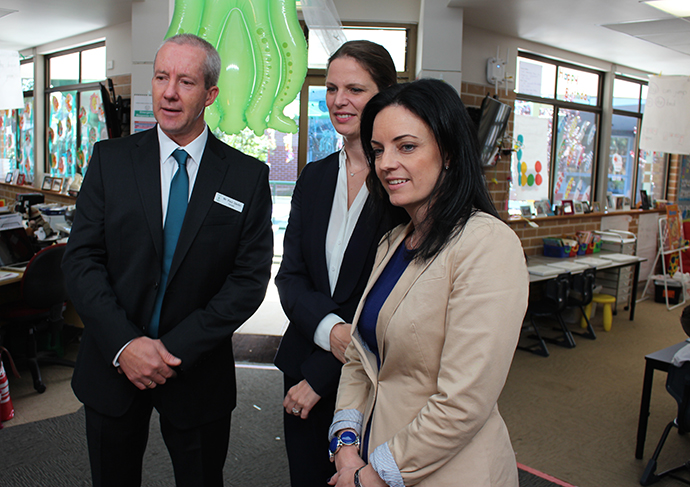 Member for Lindsay, Fiona Scott defended the Coalition's funding commitments, and said funding will increase on 2014-15 levels by 27.3 per cent to $69.4 billion over four years.
"That continued growth in Federal funding from a record base level means there is no reason schools won't be able to continue to support existing initiatives, such as specialist teachers or additional resources," she said.
"The funding will be based on the Government's Consumer Price Index to ensure it remains sustainable and doesn't drive Australia into deeper debt."
Meanwhile, Ms Ellis said Malcolm Turnbull's proposal for Federal Governments to fund private schools and leave funding of public schools up to the states is divisive.
"It's going to create a private vs public issue," she said.
"Whatever school in the country parents decide to send their children to should be a great school."