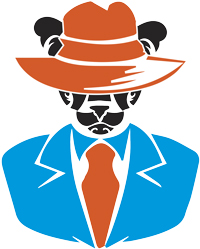 It was no surprise to see coach Anthony Griffin select Jamie Soward (pictured) and Peter Wallace in the halves for the opening game of the season against Canberra on Saturday. Despite all the talk in the pre-season, Griffin was always going to go with the veteran pair for the opening game. However, I'm hearing that both players have been told in no uncertain terms what is expected of them in 2016 and if they do fail to deliver in the early rounds, it wouldn't surprise me to see one of the two dumped to reserve grade. Pressure is a great thing but let's hope both Soward and Wallace take it with both hands and have solid seasons. At their best, they can give the competition a real shake.
The Masked Panther had reason to visit Parramatta Leagues Club last weekend and they must be commended on how they present their merchandise store. It's right in your face as you enter the club – and when I was there it was full of Eels fans buying jerseys and various merchandise. Compare that to Penrith, where they hand you a map and a compass upon arrival at the Leagues Club to help you find the merchandise shop. As I understand it new CEO Brian Fletcher is keen to see the store be moved back to a more prominent position – let's hope this is the case sooner rather than later.
The Masked Panther hears that long-time ground announcer Scott McRae wasn't invited to the club's season launch last Thursday night. McRae is one of the true survivors at Panthers and given his longevity with the club, probably deserved an invite. He's entering his 19th season at Penrith.
Well done to everyone who was involved in putting together the promotional video for Penrith's 2016 season. It's a sensational video that really sends chills down your spine – especially if you've been a long-time Panthers supporter. Even better, it's narrated by the voice of rugby league himself, Ray Warren. If you haven't seen it yet, pop onto the Panthers website. If it doesn't get you pumped for the season ahead, nothing will.
Congratulations to James Segeyaro, who plays his 100th first grade game this weekend.
Panthers have unveiled a new 1967 Commemorative Jersey – a proud celebration of the club's 50th season. The front of the ASICS jersey features the Panthers 50th season anniversary mark and is adorned with the names of all those who played for the Panthers in the club's inaugural season. Hertz once again features on the shoulders of the jersey while new sponsor VIA Careers appears on the lower back. The upper back of the jersey pays homage to the club's history with all five Penrith Panthers logos, past and present, printed above the iconic OAK logo. The Panthers will wear the 1967 Commemorative Jersey in the club's first home game of the season on Thursday, March 10, against the Bulldogs. You can pre-order the jersey now from the Panthers website or merchandise shop.
Hard hitting former Panthers forward Nigel Plum is still looking to play a role in the sporting world. I can reveal that he popped up at the Penrith Baseball Club on Tuesday night to give the sport a try. Good luck Plummy!
Former Panthers legend Brad Fittler has gone on to great things in his career, but Channel Nine have surely gone too far by giving him is own camera! 'Freddie Cam' will be introduced as part of Nine's NRL coverage this year. Fittler will be given free rein to wander anywhere and do anything. "We're taking the leash off Freddie – literally. He's getting his own camera, with no leads. Live television is about being unpredictable and dangerous, and they don't come more unpredictable than Freddie," said Nine's Tom Malone.
Panthers centre Waqa Blake has been keeping in regular touch with his family who have been hit hard by the recent cyclone in Fiji. "My family got hit hard. Their homes are damaged but a lot of other places got battered more. Thankfully everyone is safe," Blake said.
Former Panthers coach John Peard is speaking at the Men of League Penrith's season launch at St Marys Leagues Club today. Two former Panthers hookers in the shape of Kevin Kingston and Brad Drew are also part of the luncheon.
Panthers coach Anthony Griffin has a unique way of handling media enquiries when it comes to injuries. Rather than simply delegate the calls to the club's media department, Griffin has requested he handles calls about injuries himself. His new method was put to the test a couple of weeks ago when word started to spread that Matt Moylan had suffered a back injury. To his extreme credit, Griffin returned journalists' calls and filled them in on all the details.
Former Panthers coach Ivan Cleary certainly isn't being lost to rugby league. You will see Cleary on Fox Sports throughout the year, plus he's been doing some work with Rugby League Week.