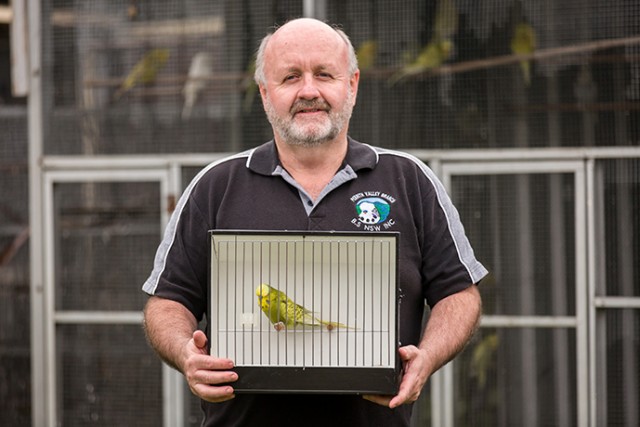 Decades of passion for James Matthews has paid off after he won Reserve Grand Champion Budgerigar at the Sydney Royal Easter Show this year.
But as budgies don't win cash prizes, four years competing at the Easter Show isn't about winning money for the St Clair resident – it's all about the prestige.
"I got Grand Champion the last two years, I was going for the trifecta, but ended up Reserve," he said.
Since he was at school, Mr Matthews has been breeding and showing birds, and over the years has figured out what it takes to have that award-winning budgie.
"I joined the local bird club at Tamworth when I was 13, and have been competing since then," he said.
He said to have a prize-winning budgerigar, they need to have good showmanship and a nice fluffy head.
"There's a few different things like colour, size, style, the outline of the spots on it chest," he said.
"You could have a good bird but if it plays up and jumps around it doesn't look good, they've got to be able to let their head feathers go and make their head look even bigger than it really is."
Mr Matthews is also Chair for the Penrith Valley branch of the Budgerigar Society of NSW, that meets at Llandilo once a month.
"We have an annual show at the start of November and we take some birds along to some meetings," he said.
For more information on their next meeting, visit www.budgerigar.com.au/penrith-valley-branch.