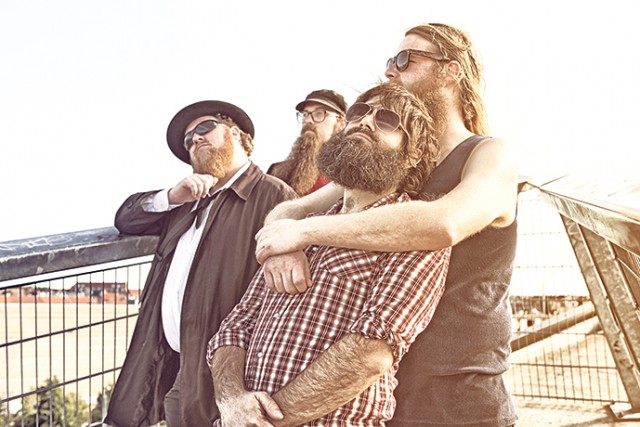 While you'd be justified in wondering if we reached peak beard when hipsters started using their facial hair as craft projects – think baubles, flowers and glitter – Aussie comedy folk band The Beards are firm believers that the only wrong way to do a beard is to not do a beard at all.
"I'm open to all forms of beard adornment," said band member Nathaniel Beard who sports his very own ginger tinged face carpet.
"I do personally take beards a bit more seriously than that myself, and I just sport an au naturel beard.
"But people are free to do with their beard what they want."
Whether you love a bushy face or not, there's no doubt beards have become a major topic of conversation when it comes to male grooming habits.
Facial hair themed band The Beards have been riding high on the popularity of these controversial furry face warmers for a decade now, but beards weren't always enjoying so much love.
"I guess the idea of a protest band that stands up for bearded people was born out of necessity, because in 2005 it was a very different time," Nathaniel said.
"It wasn't a very fertile time for beards, you had to explain why you had a beard back then.
"Now beards enjoy a very healthy status in society, and that's exactly what we set out to do."
Even though beard growth across the country is at an all time high, The Beards have decided that their gleeful musical declaration of beard love must come to an end.
The band will officially part ways later this year, but first they will be showing off their luscious face wigs one last time on their farewell tour which will be stopping off at the Peachy next month.
It's been a couple of years since The Beards were out our way, and according to Nathaniel they are keen to see how beard growth in the region is measuring up.
"Things looked pretty good last time we were there, but we will be disappointed if the quality and quantity of beards in Penrith has not increased noticeably in the time since we were last there," he said.
The Beards originally got together to play one gig, but 10 years and five albums later it's clear that audiences wanted more of this beard themed novelty band than the guys could ever have imagined.
With an extensive (and hairy) back catalogue comes several dozen songs about beards including hits like 'You Should Consider Having Sex With A Bearded Man', 'I'm in the Mood… For Beards', 'There's a Bearded Man Inside Me', 'If Your Dad Doesn't Have a Beard, You've Got Two Mums' and last year's cheeky pro-beard Christmas track 'I'm Growing a Beard Downstairs for Christmas' featuring Kate Miller-Heidke.
While The Beards are bowing out, and facial hair experts are suggesting that the beard might have had its day, Nathaniel is confident that the progress made through the facial hair advocacy movement will not be hampered.
"Beards are like hospitals, modern medicine, or the Internet, now that we have them they're here to stay," he said.
"Shaving was the fad and it was a ridiculous fad. It lasted way too long and now it's over."
Though the band may be ending, these four fearless bearded men will still be there, on the sidelines, forever professing their love for the mighty beard.
"We will stop at nothing to ensure that the world continues to become a beardier place," Nathaniel said.
Whether you love the facial hair or the music, or perhaps both, this will be the last time Penrith locals have a chance to see this band live in concert.
At a great venue like the Peachy, it's a show not to be missed.
The Beards will be performing at the Peachtree Hotel on Saturday, April 9 at 8pm. Tickets are $25 + bf. For more information or to purchase tickets visit www.thebeards.com.au.