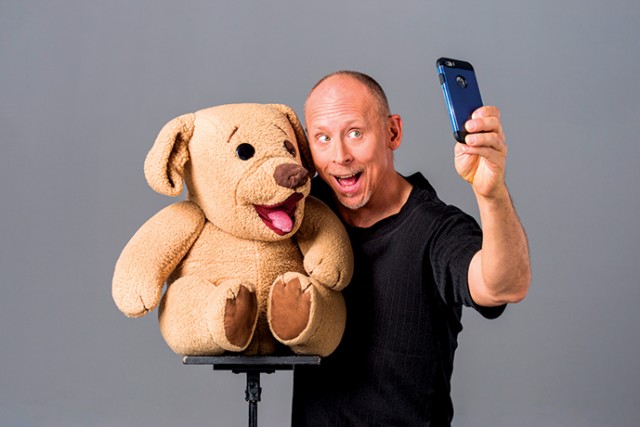 With a gift for character creation and story telling, David Strassman could have chosen any art form through which to channel his skills.
But ventriloquism was the one he fell into during his time studying acting in New York in the 70s.
From those early days busking with his foul-mouthed – and slightly evil – sidekick Chuck, Strassman has become one of the biggest names in ventriloquism, helping to revamp and reinvigorate a once tired art.
Over the years Strassman has added to his arsenal a host of complex characters that have taken on a life of their own.
Included in this group is much-loved crowd favourite: the very cute, and sometimes shy, Ted E Bare.
"He's fully fleshed out with dreams, hopes, foibles, conflicts and wishes," Strassman said about his long time onstage companion.
"And that's what makes these characters so real. They have so many years of being 'alive' that when I perform them that bleeds through."
The realness of Strassman's characters – which now include Ted E Bare, Kevin the Alien, Chuck Wood, Grandpa Fred, Sid Beaverman and the first female character, Angel – will be on display in Strassman's hilarious new show 'iTedE', which will be heading to the Evan Theatre inside Panthers on Friday, March 4.
The show will explore the subject of technology, both through its content and its puppetry.
'iTedE' will include a mock Ted talk style discussion panel where five of his puppets will appear on stage at the one time, all voiced live by Strassman but operated solely by robotics.
"This new show I'm doing is mind blowing, I am breaking all the laws of puppet physics," Strassman said.
During the show the comedian and his sidekicks will explore the impacts that technology is having on our lives, helping to hold a (hilarious) mirror to the funny side of our online habits.
"It's basically about the fact that we are all addicted to our screens, checking Facebook, YouTube and Instagram," he said.
"Thus technology is starting to do the thinking for us, we're not using our imaginations.
"For example very few people are reading anymore, they're all looking at their screens."
This use of technological advancement to present a comedy show about the potential pitfalls of technology perfectly encapsulates Strassman's views on the subject.
"I'm a techno geek, so generally I love technology and I believe technology will save the planet," he said.
"What my thesis in my show is, is that too much technology can be harmful or damaging or cause you to be indifferent.
"I think technology will save us, but I think there's a road we have to travel to get there first."
Strassman's 'iTedE' will be on at the Evan Theatre at Penrith Panthers on Friday, March 4 at 7pm and 9.15pm and Saturday, March 5 at 7pm. Tickets are $49. For more information or to purchase tickets, visit www.penrith.panthers.com.au or call 4720 5555.