Penrith is counting the cost of a deadly storm that swept across the city earlier this afternoon, with one man losing his life and a woman left with critical injuries.
The SES has received hundreds of calls for help, with houses and buildings damaged in the quick but ferocious storm that hit just after 2pm.
But the main focus is on Emu Plains where a tree crushed a car on the Great Western Highway with tragic consequences.
"On arrival officers from Penrith Local Area Command found the passenger of the car, a man, had been hit by the tree and died at the location," a Police spokesperson said.
"The driver, a woman, has been taken to Westmead Hospital in a critical condition."
Officers have been told that the car was driving easterly on Nepean Street, when the tree fell and hit it.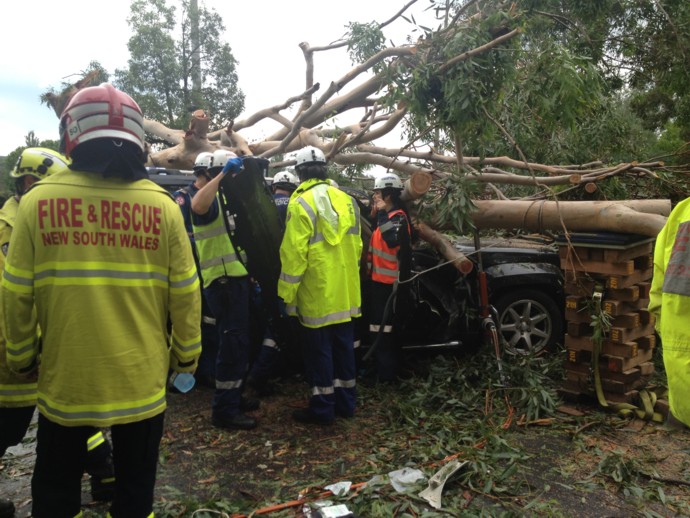 CareFlight confirmed it had transported the 60-year-old woman to hospital and that she was in a stable condition upon arrival.
A CareFlight spokesperson said the woman was trapped in the vehicle for around 40 minutes.
The Great Western Highway remains closed in both directions between Emerald Street and Nepean Street, with diversions via River Road. Investigations into the crash will continue into the night.
This afternoon's storm came after temperatures soared above 40 degrees in Penrith just after lunchtime.
Eight people were evacuated from factory units on Smith Street in Emu Plains after a wall collapsed.
At Erskine Park, Erskine Park Road was closed near Swallow Drive after a tree fell across the roadway.
A tree also fell across The Northern Road near Fourth Avenue in Cranebrook and at St Clair near Luddenham Road.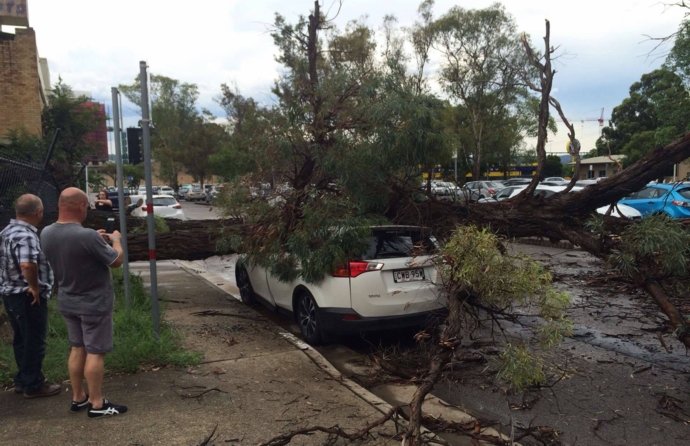 It was lucky nobody was in this car when a tree fell on it in the Penrith CBD – near Lawson Street.
Trees also fell on homes in Robinson Road, Cranebrook.
Cables Wake Park in Penrith suffered severe damage. The facility confirmed it'll be closed until further notice – a huge blow in the middle of the school holidays.
Thousands of homes were left without power during the storm including in Penrith, Emu Plains, Leonay, Jordan Springs, Llandilo, Kingswood and Shanes Park.
At 7pm, Endeavour Energy said around 160 homes in Emu Plains and Penrith were still without power due to the extreme weather.
The SES has received around 100 calls for help in the Penrith area.
Members of the public seeking emergency assistance during a flood or storm should call the NSW State Emergency Service on 132 500.
Public transport has not escaped problems with trains on the Western Line facing delays throughout the peak period.
Rain is set to continue in Penrith throughout this evening but the immediate threat of severe storms has eased.