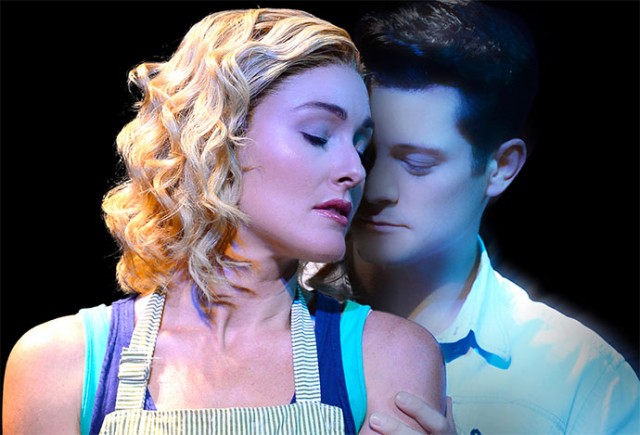 As far as movie scenes go they don't come more iconic than the sexy pottery wheel scene between Demi Moore and Patrick Swayze in the Oscar winning 1990 film 'Ghost'.
Now audiences will get to see that iconic moment come to life on stage when 'Ghost The Musical' tours Australia in 2016.
Taking on the role made famous by Swayze is 'Australian Idol' alumni turned musical theatre leading man Rob Mills.
"I didn't really think about the pressure of the Swayze thing," Rob said about his initial thoughts on being cast as Sam Wheat.
Rob explained that his excitement had more to do with landing a role that he could really sink his teeth into.
"It's a really big thing and a really challenging acting role, I think that's what I'm looking forward to the most," he said.
From a young age Rob was surrounded by music, but it was early experiences of musicals like 'The Sound of Music' and 'The Phantom of the Opera' and the emotions they conveyed through song, that really drew him into a career in musical theatre.
"When you're watching a film or a TV show and there's something dramatic or emotional or there's a thrilling moment, it's not so much the script that takes you there it's the underscore, it's the music that actually makes you feel those emotions," he said.
"Music really does help to take you to the next level."
To add to his resume, which covers the worlds of musical theatre, TV and music, this year Rob decided to tackle his 'Millsy' public persona in his one man cabaret show titled 'Rob Mills is Surprisingly Good'.
The tongue in cheek title makes reference to comments from reviewers over his more than decade-long career about how surprisingly good 'that guy from 'Australian Idol'' is.
But as Rob explains the title is also about how he may have perpetuated that perception.
"I'm the 'jokey' kind of guy who's always like 'I'm sort of just doing this gig and I'm lucky to be here' but there comes a point in your adult life where you have to actually own it," he said.
"Owning up to the fact our talent is good enough, it's a weird thing we don't really promote so much in Australia.
"We sort of do in sport I suppose, but in entertainment it's a 'oh this guy's a bit too big for his boots' kind of thing.
"I think for me not wanting to come across arrogant has also been a detriment… I need to just own the fact that I'm good enough."
Rob will once again prove he is well and truly good enough when he takes to the stage in what is set to be one of the biggest musicals of 2016. Alongside him will be a stellar cast including fellow musical master Jemma Rix, who is best known for her award-winning role as Elphaba in 'Wicked'.
Beyond 'Ghost The Musical' Rob hopes to get more acting work after his role as Peter Allen's musical partner Chris Bell in the TV movie 'Not the Boy Next Door'.
Though he's keen for onscreen work, and wouldn't mind getting back to where it first began with more reality TV, don't expect to see Rob on 'I'm a Celebrity… Get Me Out Of Here!' anytime soon.
"Sitting around in a jungle for a few weeks doesn't really excite me," he said.
'Ghost the Musical' will begin at Sydney's Theatre Royal from March 18. For more information, visit www.ghostthemusical.com.au.