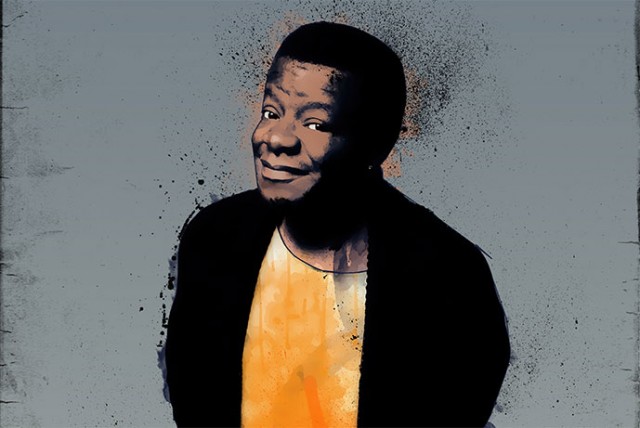 Most comedians you speak to have childhood memories of the first moment they realised they wanted to get into comedy. It might have been a particular comedian or a TV show that first ignited the spark, but either way they had a sense that making people laugh was the job they were born to do.
Stephen K Amos didn't experience that spark.
"It never happened at all," the British comedian said down the phone line from his home in London.
Stephen recalls that much of the comedy from his childhood centred around fat jokes and racist jokes, both of which he couldn't identify with.
"I didn't believe that was my arena, I didn't think those kind of things were funny," he said.
There was also a feeling that many comedians were simply using their comedy to make fun of others.
"What I saw at the time was that all these people on TV who are doing jokes, they themselves, or their culture, their look, was never ever the butt of the joke," Stephen said.
"It was always somebody else who's the victim."
For this particular comedian the step into the world of comedy didn't come until he was in the middle of a law degree, when a woman in a bar told him he was funny and should try his hand at comedy.
"I thought to myself, you know what, give it a go, what is there to lose," he said.
"And I did it, I loved it, and I haven't stopped."
Thank God he did, because since that time Stephen K Amos has become one of the most recognised names in comedy, performing for audiences across the globe and making regular appearances at comedy festivals including the Edinburgh Fringe Festival and the Melbourne International Comedy Festival.
Stephen's current tour, which will be heading to the Evan Theatre this October, is titled 'Welcome to My World' and doesn't necessarily sound like the type of subject matter that lends itself to comedy.
"You read the newspapers or see an item on the news program and it's all doom and gloom and negativity and conflict and I was just trying to think about the conflict in my world," he said.
But this is exactly Stephen's style. He enjoys bringing to light heavier issues, which he believes are best handled with a side of laughter.
"We all have conflict in our own lives on very different levels but it depends on how you deal with stuff," he said.
"If you're a kind of negative person, wallowing and angsty and 'woe is me' then to see a light out of that tunnel would be very difficult.
"If you can find a way to find the silver lining in that dark sky then that's a good thing I think."
The social issues that Stephen is particularly passionate about tackling on stage are racism and homophobia. He believes that while anything can be joked about, it needs to be done in a clever way.
To demonstrate his point Stephen mentions a situation that happened during a show when he asked a young man in the audience if he had a girlfriend and the man sitting next to him said 'oh he's gay' and started laughing to himself.
"I thought I need to address this because if you want me to join you in having a go at this young man who you say is gay but isn't gay, and that is a joke, that's not good enough because we've moved on, it's not the playground anymore," he said.
"I think we need to address those things."
Though he is just as open to being challenged himself.
"Obviously that's because I am a very big supporter of freedom of speech," Stephen said.
"If you do accept that [freedom of speech] you also have to accept freedom of expression from the audience.
"So if I say a joke commenting on a situation that did happen and it hasn't quite worked I totally expect the audience to react in a certain way or even heckle me or even challenge me, that is their right."
This audience interaction has become a staple of Stephen's shows
"I want to be so in the moment and relaxed that if anything happens in the room I can deal with it," he said.
"The audiences know that if something's happened it's happened there and then and they've seen something that I haven't planned.
"That for me adds to the joy of a live moment."
Stephen K Amos – Welcome to My World will be on at the Evan Theatre on Saturday, October 17 at 8pm. Tickets are $40.60. For more information or to purchase tickets visit www.penrith.panthers.com.au.
– Kate Reid