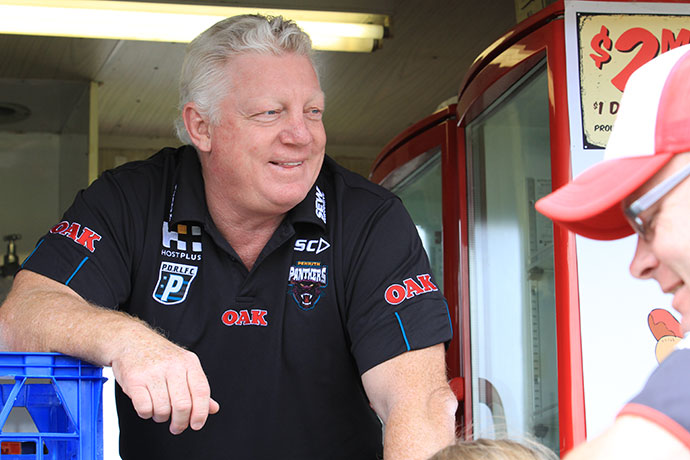 Panthers boss Phil Gould has confirmed that the club will play the vast majority of its home games in Penrith for the foreseeable future, alleviating the concerns of fans who were concerned after the release of the State Government's stadium plan.
There had been speculation that Penrith may be forced to move games to a refurbished Parramatta Stadium or even to ANZ Stadium at Homebush, which will also undergo an upgrade as part of the State Government's plan.
But in his Sun Herald column last weekend, Gould declared the Panthers would be going nowhere.
"… the vast majority of Panthers home games will always remain at Penrith as we work with the NRL while the government delivers its stadium plan," he said.
"The Panthers are taking one of our home games to Bathurst each season as part of our strong commitment to servicing our NSW Country relationships.  In the next couple of weeks we also hope to finalise negotiations to take one further home game each season for the next five years to New Zealand. These are the only matches we intend to take away from our home at Penrith in the next three years."
While the NRL has made no secret of its support for a big stadium strategy that could ultimately see the end of suburban grounds, Gould said there had been no discussion about moving games away from Penrith Stadium.
"Let me stress that never at anytime has anyone from the NSW government or the NRL suggested to the Panthers that we should move all our home games into one of the newly renovated stadiums," he said.
"The Panthers will always call Penrith home."
As part of the State Government's stadium plan announced earlier this month, an "outer western Sydney" stadium was promised. No location was given, but it is understood Penrith remains the clear favourite. It could be a decade away, however, with work on Parramatta, ANZ and Allianz Stadiums to come first.
The Panthers are likely to campaign heavily for the stadium to be built at Penrith in the years to come. The State Government is unlikely to commit to a location until it can be proved that enough content, or games, exists to warrant the expensive work.
The Weekender can reveal that at one stage, the current site of the Penrith Paceway was the preferred option for a new stadium and sporting precinct. However, the Paceway is extremely reluctant to move.
"Our commitment is that construction on Parramatta Stadium, Sydney Football Stadium, Stadium Australia and the new indoor arena near the CBD will all be completed within 10 years," said NSW Sports Minister and Penrith MP, Stuart Ayres.
"The plan for the outer western Sydney stadium is about future proofing the region's sport and entertainment demands."
Meanwhile, with the recent sale of its Newcastle club, the Panthers Group is now in its best financial position in decades.
Panthers also recently added local businessman Ian Hicks to its Board.
– Troy Dodds