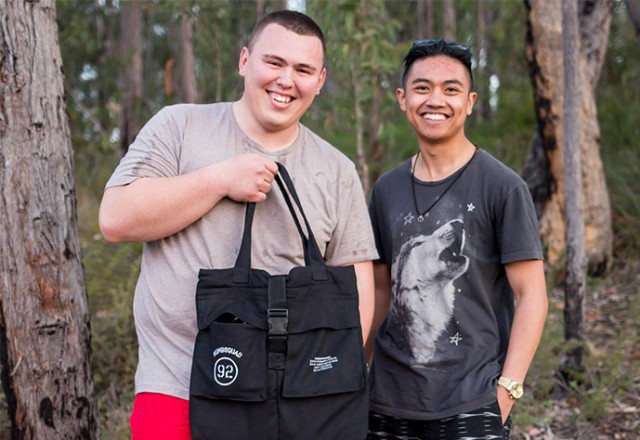 Little did Blaise Steele and his friend, J.C Lardizabal know, that moments after saying they wanted to tick 'saving someone's life' off their bucket list, they would do just that.
The two men were walking along Nepean Gorge on Tuesday afternoon, chatting away and talking about the future.
By nightfall, they had saved the life of a 16-year-old boy who had fallen some 40 metres down a cliff at Mulgoa.
22-year-old Mr Steele from Emu Plains said the universe aligned that day when they made a wrong turn and headed toward The Rock Lookout.
"I then decided to show J.C this one particular spot, and as we arrived, we had the conversation about bucket lists," he told the Weekender on Wednesday.
"It's real crazy, within a moment of saying 'imagine saving someone's life', we heard this little cry for help.
"I thought it was the universe playing a sick joke with the wind and that it couldn't be real."
Mr Steele yelled off the top of the cliff, and soon after, heard the desperate cry for help again.
"It was just instinctual. After we heard the second cry for help, we didn't even talk. We both knew we had to do something, and we just jumped in," he said.
Mr Steele, who works locally as a security officer and has been trained in basic first aid, called emergency services.
"I needed to be down there with the boy, so I gave the phone to J.C. J.C gave GPS locations of latitude and longitude of where we were located," he said.
"He was handling it, he was thinking in such a clear-headed way."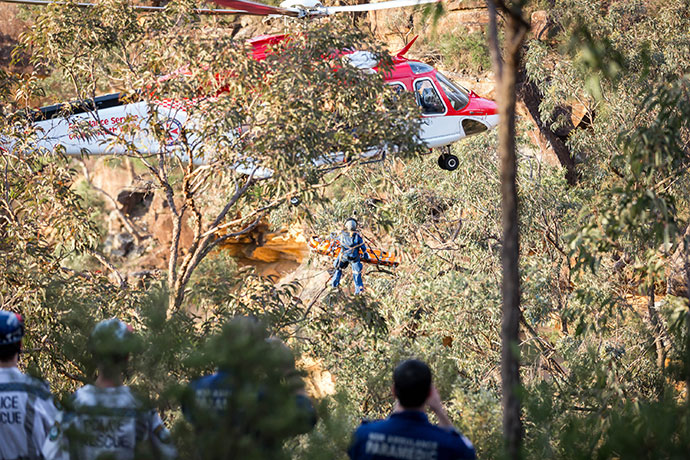 Mr Steele wasn't prepared for what he saw when he arrived at the bottom.
"I remember everything… let's just say he had extensive head injuries," he said.
"He was completely conscious and responsive the whole time. He just kept asking for help.
"I was down there alone with him for an hour but he thought he was down there for a few hours before I got there."
Ambulances were called around 3pm, and medical crews treated the boy on the scene for head, chest and pelvic injuries.
The NSW Ambulance rescue helicopter airlifted him to Westmead Hospital in a stable condition, after a delicate rescue operation.
Mr Steele dismissed the suggestion that he and his friend are heroes, but said he is proud of their teamwork.
– Dale Drinkwater