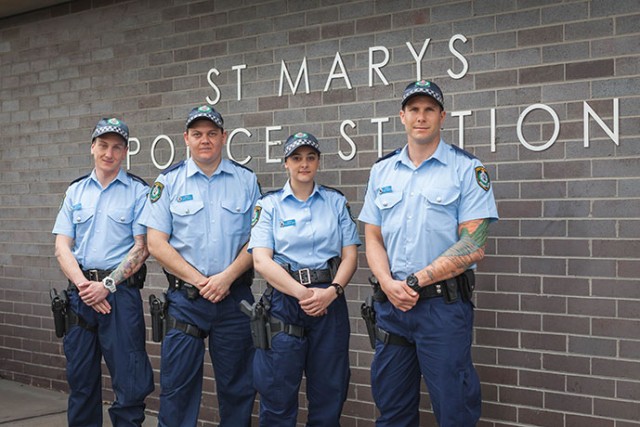 Four new recruits have wasted no time in jumping straight into the action after they joined St Marys Police Station this week.
The recruits have come in fresh from graduating in Class 325 last Friday, August 21, and have joined St Marys Police Station as probationary constables.
Alexandra Smith, Gary Sewell, Jacob Player and Kane Roberts completed their induction on Tuesday and were out on the road by late afternoon.
Mr Roberts said it has been a long time coming to be wearing the uniform and being on the beat.
"I'm very relieved to be here and to be in this position" he said.
"I was in the waiting pool for about three-and-a-half years before I went to the academy at Goulburn.
"It's something I thought I could build a career out of after coming from a construction background where I saw older men struggling to do the hard labour jobs."
Mr Player, who was in the pool for the same amount of time, said that it is a career he feels he can get a lot out of.
"There's so much diversity and there's constant hours," he said.
A total of 131 recruits graduated last week.
After 12 months of study and on-the-job training, the officers will reach the rank of constable with St Marys recruits to be placed at the station for a minimum of three years.
Duty Officer Tracy Stone said the recruits have a lot to look forward to in their new roles.
"We cover a whole range of areas and different issues," she said.
"I enjoy helping the community – that's probably the best part."
The recruits are now patrolling the streets of the community.
– Jade Aliprandi